Contra Hard Corps
aka: Contra: The Hard Corps, Probotector
Moby ID: 6653
Description
When there's a hideous alien race, mad terrorist army, or just some general madman scumball to be eliminated, there's only one team to do the job: the Hard Corps.
Now some madman military commander has stolen an alien cell; a remainder of the Alien Wars. He plans on using the cell to resurrect and clone Red Falcon, the most dangerous alien ever to exist! If he wins, the world as we know it is history!
The Hard Corps must stop his plans from being set into motion and destroy that alien cell before the Earth is destroyed!
Spellings
魂斗羅 ザ・ハードコア - Japanese spelling
콘트라 하드코어 - Korean spelling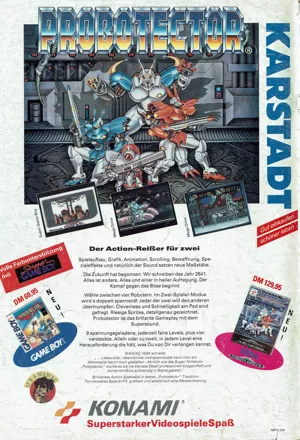 Credits (Genesis version)
18 People (16 developers, 2 thanks)
Critics
Average score: 86% (based on 26 ratings)
Players
Average score: 4.1 out of 5 (based on 51 ratings with 1 reviews)
Too much Action, even for Bruce Willis

The Good
The adrenaline rush which You experience when playing this game is remarkable. The fights are really spectacular (not so awesome, like in Contra III, but these don't stay in the shadow), like battling through an exploding base, running from the blast radius, slaughtering mutants.. The Graphics are top-notch (isn't a surprise for a Konami game, is it?) Character and boss animation is really done professionally.

The Bad
The game is uber-hard. Even for a person with above average reflexes, not trained this can become too frustrating. The bosses are met each couple steps, however, all can be beaten because they have specific tactic patterns, easy to solve and use against them. So it's not only fingers-You do need brains. The game is very short, before You know it, it's over. Because of 4 characters and different scenarios the game can be play much more times than the other parts of the series, so I say the replayability is high.

The Bottom Line
It's a maniac slaughter fest-perfect for us-action maniacs, however, it isn't a game that stays in memory for too long. I recommend inviting some friends, grab some snacks and spend a whole night, not only an evening, slaughtering and battling. The game won't, but experience will stay in Your head.
Genesis · by Othello Picklehammer (11) · 2004
Trivia
European version
The European versions of Contra Hard Corps had been vastly censored and altered. There are no human characters in the European version, for one. Everyone's a robot. Plus, the story has been changed to just some mad robot trying to take over the world.
Increased difficulty
The Japanese original allows the player characters to take three hits before dying. This was removed in the American and European releases, resulting in a more difficult game. There are unofficial patches for use with a ROM file that address this and offer other improvements.
References
During the sound test, you can find a tune named Simon 1994 AD. This is actually a hyped-up, overhauled version of Vampire Killer from Konami's Castlevania.
There is also a secret area in level 3 (The Junkyard), where you must fight three robots. One of them is a super-deformed Simon Belmont-like robot. Right before he comes out, he whips a candle that gives him a fish, which he uses like a boomerang.
Awards
GameFan

1994 (Vol.3, Iss.1) - Overall Action/Arcade Game of the Year
1994 (Vol.3, Iss.1) - Best Genesis Action/Arcade Game of the Year
1994 (Vol.3, Iss.1) - Best Genesis Two-Player Game of the Year
Information also contributed by Big John WV and CaptainCanuck
Related Sites +
Contra Encyclopedia
Fan site dedicated to the official games in the Contra series. All versions of each game are covered. Information includes release dates, detailed game descriptions, regional differences, lots of trivia and interesting information about the games' developmental stages. There is also plenty of screenshots, links and additional resources
The Contra Headquarters
A hosted fan "shrine" site devoted to all the games of the Contra series, including the Sega Genesis game Contra: Hard Corps. Content includes game info/descriptions, plot summaries, various kinds of media (images, MP3s, etc.) and links to other Contra-related sites.
Contribute
Are you familiar with this game? Help document and preserve this entry in video game history!