Super Monaco GP
aka: G.P. Mônaco, Super Monaco G.P.
Super Monaco GP is a first-person perspective racing game which allows you to race other cars around the famous Monaco Grand Prix course. You first must qualify for a position on the grid by driving round a shortened version of the course on your own. The faster you drive the higher placing on the grid. The actual race has you competing against 19 other drivers and as well as trying to beat them all you must get to checkpoints within a time limit or it is race over. You also have to stay ahead of a certain position which starts at 20th and gets lower the longer the race goes on.
The Genesis version of Super Monaco adds a complete career mode, however. In the career mode, your goal is to win a season of races. Unfortunately, you start with a relatively slow car. By challenging other drivers, you can move to a better team and car, and ultimately win the F1 World Title. As well as the famous Monaco course, others from around the world have been added, to give the game a longer shelf life.
Spellings
スーパーモナコGP - Japanese spelling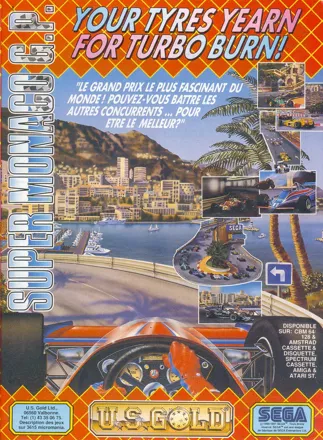 Credits (Genesis version)
10 People (9 developers, 1 thanks)
Trivia
Awards
Commodore Format

July 1993 (Issue 34) - Modern Classics: Driving Games (Check 'em out)

Electronic Gaming Monthly

October 1990 (Issue 15) - Best Sports-Themed Game
Contribute
Know about this game? Add your expertise to help preserve this entry in video game history!