Gore: Ultimate Soldier
aka: Gore
It's the mid-21st century. The planet has fallen into ruin as street gangs have grown so powerful that they control neighborhoods and the more powerful ones control entire cities. Desperately trying to reclaim power, the U.S. government develops a highly advanced combat training simulator.
In the world of Gore, you are a soldier who has just entered the training program. As you begin bootcamp, the gangs hack into the training simulation with intent to use it for themselves. What ensues is a life and death struggle that will determine the future of the entire planet.
Spellings
Gore: Первая кровь - Russian spelling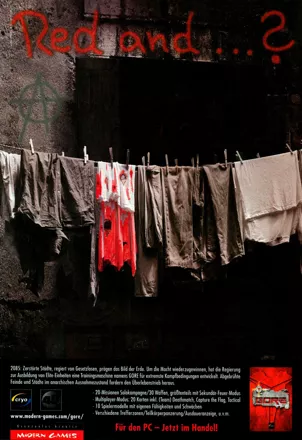 Credits (Windows version)
53 People · View all
President
Vice President of Sales and Marketing
Product Manager
Graphic Design and Layout
Illustration
Quality Assurance Testing
Website Design
Original Concept
Modeling
Senior Level Design
Level Design
Textures and Skins
Effects
Concept Art
Voice Talent
[ full credits ]
Trivia
German index
On October 31, 2002, Gore: Ultimate Soldier was put on the infamous German index by the BPjS. For more information about what this means and to see a list of games sharing the same fate, take a look here: BPjS/BPjM indexed games.
Government
Based on the ten national flags that are hanging on the walls of the UMC Headquarters in the game's Cube level, the UMC (world government of the future) is composed of the following countries, in order from left to right: the United States, China, Australia, Pakistan, Canada, Germany, Brazil, France, Russia, and the United Kingdom.
Information also contributed by Xoleras
Contribute
Know about this game? Add your expertise to help preserve this entry in video game history!