The Tom Cruise film featured an F-14 Tomcat plane, and this licensed game recreates this. Viewed from the cockpit in full 3D, the game is a straight head-to-head duel, against another player or the computer. You are armed with missiles (while put you in control of a small target zone, which must remain over your opponent for 3 seconds), flares and cannons (which overheat when overused)- use these more wisely than your opponent. Pay attention to speed and altitude too. The computer has 3 planes to throw at you, of which the last is the toughest, while each player in a 2-player game also has 3 'lives'.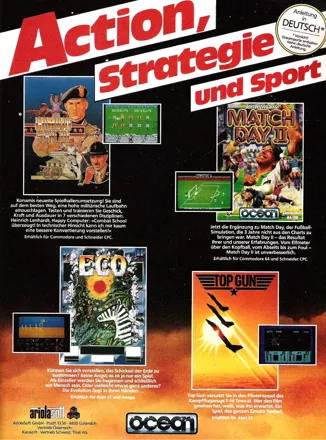 Credits (Amstrad CPC version)
Trivia
On June 30, 1988, Top Gun was put on the infamous German index by the BPjS. For more information about what this means and to see a list of games sharing the same fate, take a look here: BPjS/BPjM indexed games.
The original Spectrum version was incompatible with the +2A and +3 models. The Hit Squad reissue does work, but without the music.
Contribute
Know about this game? Add your expertise to help preserve this entry in video game history!