Immaterial and Missing Power
aka: Touhou 7.5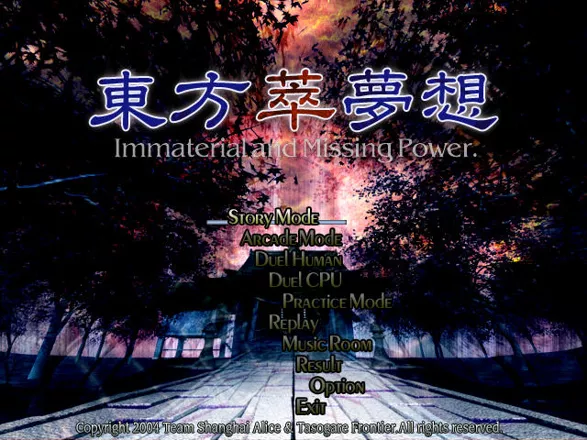 Released

Publishers

Developers
Moby Score

n/a

Collected By

2 players
Genre

Perspective

Gameplay

Setting
Description
Immaterial and Missing Power is a 2D fighting game. This game is "Touhou 7.5" - events in the game take place between Perfect Cherry Blossom (7th) and Imperishable Night (8th). The player can choose one from 10/11 characters: Reimu Hakurei, Marisa Kirisame, Sakuya Izayoi, Alice Margatroid, Patchouli Knowledge, Youmu Konpaku, Remilia Scarlet, Yuyuko Saigyouji, Yukari Yakumo, Suika Ibuki and Hong Meirin (only in patch). Gameplay is typical for the fighting genre: defeat opponent, using punches, kicks and special attacks (special Spell cards).
Contribute
Know about this game? Add your expertise to help preserve this entry in video game history!
Contributors to this Entry
Game added by 666gonzo666.
Last modified February 22nd, 2023.