Description
Oh No! More Lemmings is the follow-up to Lemmings. The game features 100 new levels, and all-new graphics and music. It was released in both a stand-alone and an add-on version.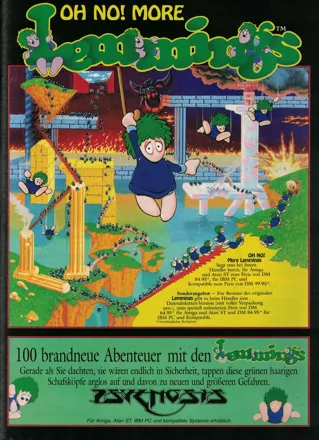 Credits (DOS version)
5 People
| | |
| --- | --- |
| Programming | |
| Graphics / Artwork | |
| Music | |
Trivia
PC Player covermount
On the cover CD of the German magazine CD Player 02/1994, the "demo version" of the game is the full game instead. The editorial team received two unlabeled disks from Psygnosis - one with the full version and another one with the demo version for the CD - and mixed them up.
Tunes
The order the six tunes play on each system is sometimes a little bit different. The Amiga and Macintosh versions play them in this order: * Tune 1 * Tune 2 * Tune 3 * Tune 5 * Tune 6 * Tune 4
The MS-DOS and Atari ST play them in this order: * Tune 1 * Tune 2 * Tune 3 * Tune 4 * Tune 5 * Tune 6
The original six tunes from the Amiga version of the game were quite short, while on other systems (Atari ST, DOS, and Macintosh) the songs had parts added to them making them almost a minute longer. For example, the original Amiga Tune 5 goes for 46 secs while the Macintosh version goes for 2 minutes and 5 seconds, twice as long as the original. The song has a new Intro (0:00-0:12) before the original Amiga tune, which loops twice (0:12-1:25), and a new finish (1:25-2:05). Similar things are done to the other five songs.
Two-Player Exclusive
As with its predecessor Lemmings, the Amiga and Atari ST ports contained 10 special two-player levels.
Versions
Oh No! More Lemmings was available either as a stand-alone game or as a datadisk for Lemmings. The stand-alone version cost more. A Windows 95 version of Lemmings was released in 1995, including (nearly) all of the levels from Lemmings and Oh No! More Lemmings. The game was ported to the new operating system (OS) by Visual Sciences.
Information also contributed by Copland-II and krammer.
Contribute
Know about this game? Add your expertise to help preserve this entry in video game history!