Oh No! More Lemmings
Moby ID: 684
Description
Oh No! More Lemmings is the follow-up to Lemmings. The game features 100 new levels, and all-new graphics and music. It was released in both a stand-alone and an add-on version.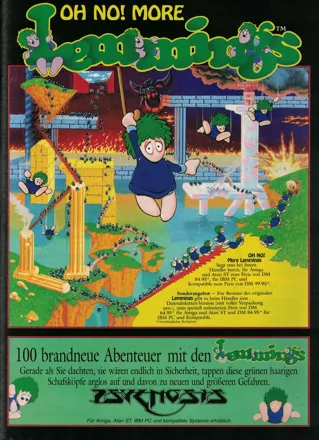 Credits (DOS version)
5 People
| | |
| --- | --- |
| Programming | |
| Graphics / Artwork | |
| Music | |
Critics
Average score: 88% (based on 15 ratings)
Players
Average score: 4.0 out of 5 (based on 61 ratings with 4 reviews)
The worst Lemmings release - basically a cash-in

The Good
100 more levels of Lemmings action, at a time when people couldn't get enough of it.

The Bad
Many of these levels appear to be ones that weren't considered good enough for the original, and some seem to have been designed in five minutes. The difficulty curve is uneven, there is too much reliance on precise clicking which makes levels far harder in practice than theory - the one thing that could prove dislikable in the original. Cashing in seems to have been the main purpose. The stand-alone version was largely pointless, because you'd be mad to get this one before the main game.

The Bottom Line
Guide a tribe of Lemmings to safety by assigning skills such as bashing, climbing and blocking to them. For each level you have to get a certain percentage of them to safety.
DOS · by Martin Smith (81428) · 2004
The Good
The replayability of this game is amazing mainly because the later levels in the game are so difficult that you have to keep playing the game to complete them! That is another good thing about it. It is demanding enough that you don't complete it in a couple of weeks and then end up playing it over and over again (I have had this game since July 1997 and have yet to complete the last thirty or so levels.

The Bad
There is nothing not to like about this game.

The Bottom Line
Oh!No! More Lemmings is a classic strategy game that can literally take months and months to complete. Although some people may find the overall objective tiresome after a while I have never become bored since I bought it over three years ago.
DOS · by James Walter (271) · 2001
One of my favorite games of all time

The Good
This game was a staple of my childhood and is one of my absolute favorites. My parents bought me this game to play on my Macintosh LC III and I was addicted. I also ran it on my black & white PowerBook 100, and it was still fun. I still have the original two floppy disks and the user manual with the passwords/codes for the different levels (a form of copy protection). I remember bringing this game to school when I was in second or third grade and my teacher making copies of the manual and installing the game on all the computers in our Mac lab and the Macs in the classroom. It was the most popular game for students for years and years (until Pocket Tanks was released, and after that, we installed CounterStrike on the new computers that ran Windows).
This game ran without issues on all my Macintosh computers. It was the first piece of software I would install after getting a new machine. It ran on all my machines that ran the classic Mac OS (LC III, LC 580, Performa 6290cd, Power Macintosh 5200, Power Macintosh 5400, Power Macintosh G3 Blue & White, iMac DV, PowerBook 100, PowerBook 1400cs, PowerBook 3400c, and iBook DV) and thanks to the Classic emulator in Mac OS X, I was able to run it on all my newer PowerPC-based machines running Mac OS X. For a while, I couldn't run the game on my Intel-based Macs but there is an Java-based emulator/port that allows the original Lemmings and Oh No! More Lemmings to run on Mac OS X (PowerPC and Intel machines). Unfortunately, the Java port uses the Windows versions of the game and not the Macintosh version, so the graphics aren't as crisp and clean, but at least the game lives on. I also play the original version using the SheepShaver virtual machine for Mac OS X/Linux/Windows.

The Bad
On smaller displays, or computers that can't run the game full screen (only in a window, which is usually small and can't be resized), it is hard to clearly see the picture on the buttons to assign jobs/tasks to Lemmings/blow them up/speed up/etc. This wouldn't be a problem except that, unlike versions for other platforms, you can't hover your pointer over the button to see what the button does. You have to just hope you remember what the button does (the pictures don't clearly illustrate this) and blindly click.

The Bottom Line
It is a nostalgic look back at a time when games were simple but engaging, and weren't dependent on 3D/graphics/multiplayer over network, etc. This was a game that someone of any age and any level of computer skills could play for hours and enjoy themselves. It ran on old hardware, black and white displays, all-in-one Macs that had incredibly low screen resolutions, and always worked. The soundtrack gets stuck in your head and you'll find yourself humming it all the time. It's a great game. Hopefully they eventually will port it to the iPhone/iPad and Android OS.
Macintosh · by Steve Kudelko (2) · 2012
Trivia
PC Player covermount
On the cover CD of the German magazine CD Player 02/1994, the "demo version" of the game is the full game instead. The editorial team received two unlabeled disks from Psygnosis - one with the full version and another one with the demo version for the CD - and mixed them up.
Tunes
The order the six tunes play on each system is sometimes a little bit different. The Amiga and Macintosh versions play them in this order: * Tune 1 * Tune 2 * Tune 3 * Tune 5 * Tune 6 * Tune 4
The MS-DOS and Atari ST play them in this order: * Tune 1 * Tune 2 * Tune 3 * Tune 4 * Tune 5 * Tune 6
The original six tunes from the Amiga version of the game were quite short, while on other systems (Atari ST, DOS, and Macintosh) the songs had parts added to them making them almost a minute longer. For example, the original Amiga Tune 5 goes for 46 secs while the Macintosh version goes for 2 minutes and 5 seconds, twice as long as the original. The song has a new Intro (0:00-0:12) before the original Amiga tune, which loops twice (0:12-1:25), and a new finish (1:25-2:05). Similar things are done to the other five songs.
Two-Player Exclusive
As with its predecessor Lemmings, the Amiga and Atari ST ports contained 10 special two-player levels.
Versions
Oh No! More Lemmings was available either as a stand-alone game or as a datadisk for Lemmings. The stand-alone version cost more. A Windows 95 version of Lemmings was released in 1995, including (nearly) all of the levels from Lemmings and Oh No! More Lemmings. The game was ported to the new operating system (OS) by Visual Sciences.
Information also contributed by Copland-II and krammer.
Contribute
Are you familiar with this game? Help document and preserve this entry in video game history!