Description
In the future, maybe in the year 2000, people will be forced to move underground and live in tunnels. Unfortunately, these tunnels are infested with mutated rat/alligator creatures known as "ratigators." You are the pilot of a Sewer Shark, a craft designed to navigate the Sewers and rid them of ratigators. It's a dangerous job, but if you clear out enough vermin you can win a one-way trip to Solar City and sunny beaches.
Sewer Shark is an FMV-based shooter, and one of the first games released for the Sega CD. You move a crosshair around the screen and shoot targets. Occasionally, you can also choose to change directions at fixed points.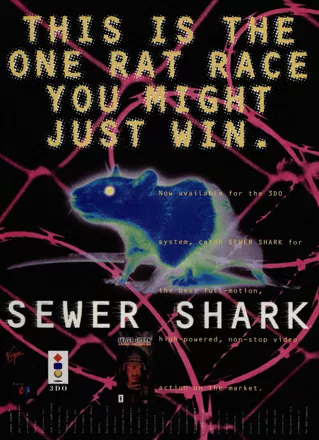 Credits (SEGA CD version)
74 People · View all
Presented by
A U-Direct Film by
Original Concept
Game Design by
Written by
Computer Programming by
Produced by
Directed by
Ghost
Stenchler
Falco
Girl Friday
Voice of Catfish
Production Coordinator
Tunnel Music Composed by
Tunnel Music Orchistrated and arranged by
Incidental Music Composed by
Sound Effects
Sound
Motion Control Puppets
[ full credits ]
Trivia
Sewer Shark wasn't originally made for the Sega CD in the first place. It was originally made for a system that used VHS tapes instead of cartridges or CDs. Hasbro, who developed the system, decided to drop the idea, may be for money reasons, or something else. So when the time came to release the Sega CD in the U.S, Sega probably decided to release this game as a launch game because it featured FMV and Sega wanted to show how powerful the Sega CD was through FMV. Thus, Sega bought the rights for it and published it under Sony.
Tom Zito, the president of Digital Pictures, said the game's development costs were $3 million.
Contribute
Know about this game? Add your expertise to help preserve this entry in video game history!