Solstice: The Quest for the Staff of Demnos
aka: Solstice : Die Suche nach dem Zauberstab von Demnos, Solstice : La Busqueda Del Baculo De Demnos, Solstice : La quête du Sceptre de Demnos, Solstice: Alla ricerca dello scettro di Demnos
The Princess Eleanor has been captured by the evil mage Morbius and is somewhere in the fortress of Kastlerock. You play the part of Shadax, who must now rescue the Princess by searching the fortress for the six pieces of the magical Staff of Demnos and use it to defeat Morbius.
Solstice is a combination of puzzle-solving and action game played from an isometric 3D point of view. There are numerous rooms to explore in the fortress, many with dangerous, evil creatures wandering about and traps and obstacles to get past. Along the way there are magic potions, keys, and many other items to find which help you get past the creatures as well as reach new parts of the fortress.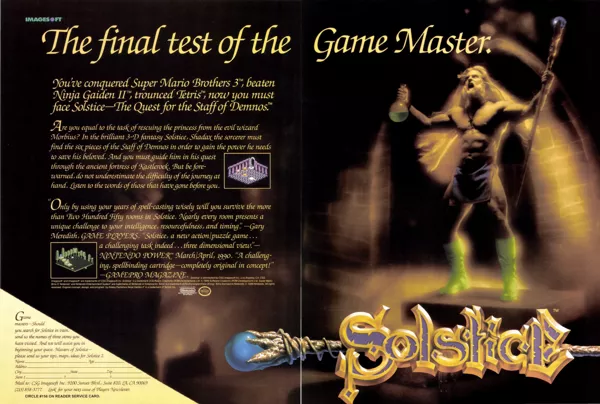 Credits (NES version)
14 People
| | |
| --- | --- |
| Produced by | |
| Programmed by | |
| Graphics by | |
| Music by | |
| Game designed by | |
| Associate producers/Los Angeles | |
| Associate producers/Tokyo | |
| Executive Producers | |
| Packaging Design | |
| Cover Artwork by | |
Trivia
Milestones
Solstice: The Quest for the Staff of Demnos was the first game developed for the Nintendo console outside Japan to win a coveted Japanese award for its contribution to the Software Industry as well as achieving World-wide sales of over half a million units.
Contribute
Know about this game? Add your expertise to help preserve this entry in video game history!