(prices updated 9/22 11:49 AM )
Another in the series of slugfest games by American Laser Games is Space Pirates. While it resembles The Last Bounty Hunter and Drug Wars, it is science-fiction oriented and presents a space theme.
Spellings
Космические пираты - Russian spelling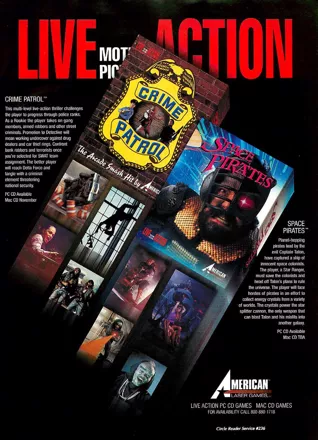 Credits (DOS version)
6 People
| | |
| --- | --- |
| Programming | |
| Graphics / Artwork | |
| Sound | |
| Support | |
Critics
Average score: 51% (based on 13 ratings)
Players
Average score: 3.1 out of 5 (based on 19 ratings with 1 reviews)
Bah! Even worse than the others!

The Good
This game is even WORSE than American Laser Games' other arcade conversions. It's horrible! There's not a single good thing about this game!

The Bad
Crappy video technology, simply ludicrous acting, bad controls, horrible video interaction, stupid design and ridiculous premise make this one of the worst games to date.

The Bottom Line
A really really bad game. Stay away from it, I'm warning you.
DOS · by Tomer Gabel (4539) · 2000
Trivia
Utilizes IBM technology: PhotoMotionTM, DDVTM and Funsation.
Installation program utilizes Borland's Turbo Vision technology.
Contribute
Know about this game? Add your expertise to help preserve this entry in video game history!