Castrol Honda Superbike Racing
Castrol Honda Superbike Racing is a motorcycling game. The player can choose between four playing modes: practice session (just racing alone on a track), trainer session (following another bike to learn the ideal line), single race or championship (one season over all 14 courses). The two latter ones optionally also include a qualifying session. While there is only one bike (Honda RC 45). it is possible to change its setup (gearbox, front tire, rear tire, final drive, gears).
Single races and championship can also be played with a second player in split-screen. The races include overall eight participants. Besides the eight difficulty levels and number of laps, the player can also enable/disable auto brake, help arrows, steering assist, wheelies, engine overheat, tire wear, loose rear wheel, penalties, bike damage and major damage.
This game is in part based on Castrol Honda Superbike 2000.
Spellings
Castrol HONDA スーパーバイクレーシング - Japanese PlayStation spelling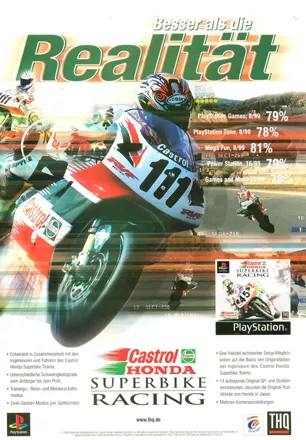 Credits (PlayStation version)
24 People · View all
Lead Developer
3D Modeling
Track Modeling
Music
Graphic Design
In-Game Graphics
Front End Developer
PlayStation conversion
Simulation Developer
Playtester
BOS
Business Director
Producer
Lead Tester
Testers
Manual Creation
Marketing
Technical Director
Art Director
Executive Producer
Producer
[ full credits ]
Contribute
Know about this game? Add your expertise to help preserve this entry in video game history!