Official Description
Run the Wild
In SimAnimals, embrace all the adventure, fun, and mischief that await you in the vast forest. You have the power to reach out and touch, pick up and move everything in the forest from squirrels and foxes to trees and flowers. Make your wild animals happy and maintain a forest that lets them flourish as you venture further into the forest than you've ever been before! Engage with a forest full of wild animals including bears, rabbits, hedgehogs, badgers, and owls. Solve challenges, and uncover one-of-a-kind objects as you journey deep into a forest that you control. Specifically on Wii, experience the forest with your pals by playing cooperatively with up to four players at the same time. With the Nintendo DS, use your stylus and microphone to create rain, wind, and fire, and see what happens! Get ready to run the wild in SimAnimals.
• Engage with wild animals—Touch, move, and play with a forest full of animals including bears, squirrels, foxes, badgers, and owls! To journey deeper into the forest, you need to fulfill these animals' basic needs. Earn your animals' trust, and they'll play with you; be mean to them, and they will fear you.
• Explore the vast forest and make it your own—Embark on new adventures when you unlock forest areas including woodlands, swamps, or castle ruins. Move and pick up everything in your forest. Some plants grow better near water, and certain animals are healthier when close to particular food sources. The happier your animals and plants, the more places you'll have to explore and discover new objects and animals!
• Solve challenges—The animals need YOU in order to live happily in the forest. Help them gain access to food, move into your forest, clean polluted areas, and much more.
• Survival of the fittest!—Find out who the troublemakers and the good guys are, and make sure they all get along … or not!
• Discover secrets in the wild—More lies in the forest than what meets the eye. Uncover one-of-a-kind objects and animals, some with special abilities, by completing tasks.
• Touch everything in the world and more—Interact directly with the animals in their environment using your stylus, while your Nintendo DS microphone lets you become the wind. Blow into the mic to gather fruit from trees, spread blossoms, and to see what else happens!
Source: Nintendo.com Description
Spellings
シムアニマル - Japanese spelling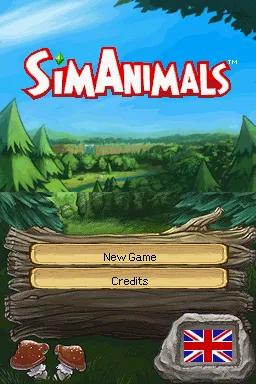 Credits (Nintendo DS version)
247 People (222 developers, 25 thanks) · View all
Executive Producer
Producer
Assistant Producer
Senior Director of Product Development
Development Director
Associate Development Manager
Development Testers
Creative Director
Designer
Technical Director
Engineers
Engineering Intern
Art Director
Lead Artist
Artists
Additional Animation and Art
[ full credits ]
Contribute
Know about this game? Add your expertise to help preserve this entry in video game history!
Contributors to this Entry
Game added by Charly2.0.
Additional contributors: Rik Hideto.
Last modified February 22nd, 2023.