Big Mutha Truckers
aka: Bakusou Convoy Densetsu: Otoko Hanamichi America Roman, Suure Mamma Rekkad
Ma Jackson, the owner of Big Mutha Truckers, tells her four sons she is retiring. The new owner of Ma's company will be the son who makes the most money trucking through Hick State County for 60 days.
Big Mutha Truckers is a truck racing game in which the player can take control of Bobbie-Sue, Cletus, Earl, or Rawkus. The basic gameplay consists of transporting wares from one of the game's five cities to another one. In each city, there is a local store, where these goods can be bought or sold. Each store indicates how their buying and selling prices for an item measure up against the competition. At the local bar, the player can talk to the bartender to get some tips on what kind of items to buy and where to sell them. It's also the place to get some special missions, like destroying a number of cars. Players can refuel, repair, and upgrade their truck at the garage.
Spellings
Мазатракеры! - Russian spelling
爆走コンボイ伝説 男花道アメリカ浪漫 - Japanese spelling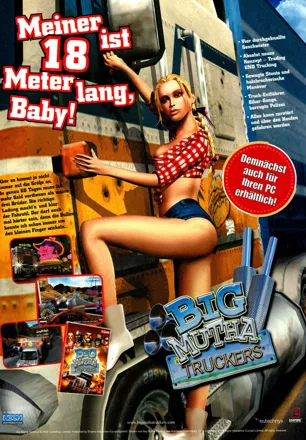 Credits (PlayStation 2 version)
125 People · View all
Managing Director
Project Manager
Project Coordinator
Programming Manager
Creative Manager
Director of Business Development
Programming Team
[ full credits ]
Related Sites +
Official Site
Redneck test, Features, Screenshots, Characters, Wallpapers, Videos
Contribute
Know about this game? Add your expertise to help preserve this entry in video game history!