StarQuest: Rescue at Rigel
aka: Rescue at Rigel
In Rescue at Rigel, you take the part of Sudden Smith, a human adventurer teleported down by transporter beam inside a six-floor, sixty-room complex inhabited by an alien race, the Tollah. Scattered throughout the base, which has been hollowed out of an asteroid orbiting Rigel, ten humans are held captive, one in each of ten different rooms. While you can adjust the difficulty of the task, the object in all cases is the same: to search the complex, find and release as many of the prisoners as possible (by activating the transporter beam, which will teleport them back up to the ship), and get out alive-in an hour or less.
If the Tollah base can be likened to an iceberg, you begin the game at the tip: inside the top room, the only one that connects the complex with the surface of the asteroid. (Since there is no air and no escape on the asteroid itself, the door to the outside, being "off limits," is not shown on the display). From this vestibule there are only two usable exits. The larger obviously leads to a gravshaft; the smaller looks like an ordinary doorway-but there are no other rooms on the floor. Whichever way you choose to begin your quest, there will be no turning back once you walk through the door.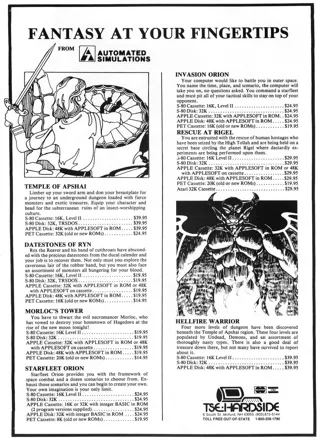 Credits (Apple II version)
13 People
| | |
| --- | --- |
| Game Design | |
| Programs | |
| Players´ Manual | |
| Playtesting | |
| Playtesting | |
| Cover Illustration and interior sketches | |
| Layout | |
| Typesetting | |
| Printing ( inside ) | Bering Graphics & Printing |
| Printing ( cover ) | |
Contribute
Know about this game? Add your expertise to help preserve this entry in video game history!