World Trophy Soccer
aka: European Club Soccer, J.League Champion Soccer
World Trophy Soccer (also known as European Club Soccer) is a reworking of Manchester United Europe, using the same side-view gameplay and a wider view than Krisalis' other football game of the time, John Barnes' European Football.
All the teams who were in contention for one of the 3 main European tournaments as they were at the time of the game's release are included, although with fictitious player names and a few inaccurate kits. Cutscenes detail the match's progress, while a referee is active on the screen. The game can be played in arcade or simulation modes, with 6 different formations available.
Spellings
Jリーグ チャンピオンサッカー - Japanese spelling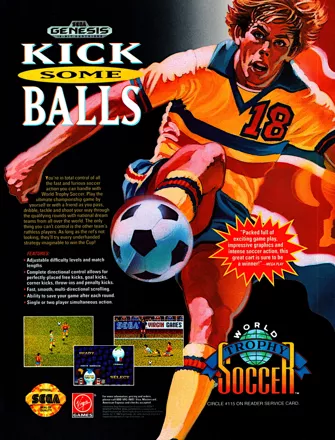 Credits (Genesis version)
22 People · View all
Chief Programmer
Guest Programmer
Additional Code
Graphic Artist
Music Composer
Audio Engineer
Game Design
1st Game Tester
2nd Game Tester
Team Manager
Programmers
Artists
[ full credits ]
Trivia
Design Mode
Interestingly enough, even though the color edit/design mode is absent in the Japanese version, the mode's music is still present in the sound test.
Players names
While names are fictional and were created from combining different names from real footballers and football-related persons, there's still a Ronald DeBoer in Twente (number 7). On the other hand, Portuguese teams got names as fascinating as Emilio Ivic, Manuel Mladinov and Tomislav Antonio. I guess there really were a lot of eastern players around here back in the day.
Version differences
The US version is practically a clone of the PAL version, which is an adaptation of Manchester United Europe. Fearing that the European Champions Cup (now known as the Champions League) would not be as well accepted in the US., Krisalis replaced clubs by national teams (although only 32), but any more big changes stop there. The competition is exactly the same, a 32-team knockout with 2 legs, the cup shown at the victory screen still is remarkably close to the Champion's cup, and even the tunes are named after the original PAL release.
Extra team in England
While the teams are based off some of the main teams in the European 1991-92 season, there is one team in the English block that has never played in the country's top flight: Rotherham United. Their inclusion is justified, however, because Krisalis is based in Rotherham.
Contribute
Know about this game? Add your expertise to help preserve this entry in video game history!