Lester the Unlikely
aka: Odekake Lester: Lelele no Le
Description
One day Lester was walking through Seaport City's loading docks reading the new issue of his favorite comic, "Super Duper Hero Squad." Feeling a little tired from playing video games late the night before, he looked around for a comfortable place to finish his comic.
Without thinking, Lester stretched out on a pallet that was ready for loading onto a nearby freighter. And fell asleep.
Boy, did he pick a bad place to take a nap. Several hours out of port he woke up and found himself in deep trouble (and more than a little seasick). The ship's captain believed his story about being an accidental stowaway. But... only in cases of extreme medical emergency could the ship return to port. And Lester wasn't that seasick. Yet...
So, he was along for the ride... until the first port of call. But as chance would have it, pirates hijacked and scuttled the freighter. Luckily enough, Lester found a life vest before the ship sank and swam for the nearest tropical island.
Just before reaching the beach Lester passed out from sheer exhaustion. Now, his real adventure begins...
It is up to you to help Lester get back home.
You'll face such things as giant seagulls, panthers, pirates, and the spirits of the underworld.
Spellings
おでかけレスターれれれのれ - Japanese Spelling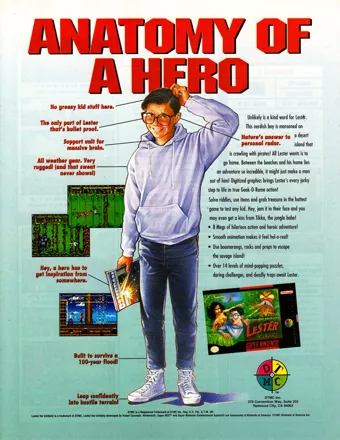 Credits (SNES version)
35 People (22 developers, 13 thanks) · View all
Programmer
Lead Artist
Producer
Designer
Support Artists
Sound and Music
Initial Concept
Lester Played by
Sound and Music Engine
World Editor
Testing
Support Team
Producers
Tech. Assistance for DTMC
Special Thanks To
[ full credits ]
Contribute
Know about this game? Add your expertise to help preserve this entry in video game history!