FIFA 99
aka: FIFA '99: European League Soccer
Moby ID: 1188
This was the third FIFA title in a little over a year. It incorporates 42 national sides, as well as 250 club teams from 12 different leagues, to play a complete true-to-life season, the preset Super League, or a league or cup of your own design. Formations and tactics can be set, and players can be moved between teams.
Gameplay can be viewed from multiple angles. Players have more animation than ever before, with new moves including sliding challenges and close-control trapping. Goalkeepers now have a level of human control.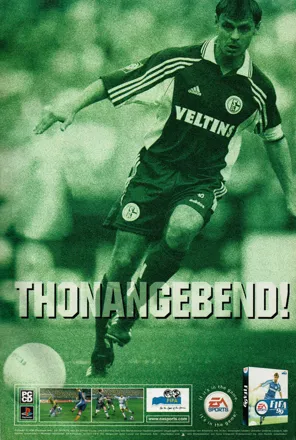 Credits (Windows version)
259 People (220 developers, 39 thanks) · View all
Executive Producer
Director, Product Development
Producer
Franchise Development Director
Franchise Associate Producer
Associate Producer
Assistant Producer
Development Director
Franchise Engineering Architect
Franchise Art Lead
Franchise In-Game Art Lead
Senior Art Advisor
Lead Programmer
Programmers
Lead Artist
Artists
Core Team Production
[ full credits ]
Critics
Average score: 89% (based on 44 ratings)
Players
Average score: 3.7 out of 5 (based on 56 ratings with 0 reviews)
Be the first to review this game!
Trivia
Cartridge limitations
The cartridge versions of FIFA 99 suffer from many of the same limitations and quality issues as its predecessor. Compared to their CD-ROM PlayStation counterpart, they perform poorly and are lacking some of the more refined details and graphics.
Amazon's product description for the game includes the line: "Plus, the Nintendo 64 can handle only one in-game announcer who speaks in clipped phrases, rather than the two-man banter in the PlayStation version. The otherwise decent music also takes a drop in quality because of cartridge limitations."
Portugal lawsuit
Similar to Actua Soccer 3, Electronic Arts faced a possible lawsuit in Portugal for using player and team names without authorization from FutePro, the legal owner of them. While Gremlin's product was pulled from the stores, FIFA (which for the first time had a localized cover featuring national team and Fiorentina midfielder Rui Costa) continued to be sold as long as stores wanted to. There was no news of an agreement between both parts, but either EA paid compensation or FutePro decided to let the issue die fearing long and expensive legal procedures.
Awards
Computer Gaming World
Power Play

Issue 02/1999 – Best Sports Game in 1998

Total! (Germany)

Issue 01/2000 – Best N64 Soccer Game in 1999
Related Sites +
FIFA 99 Online
The ultimate site for Fifa99 fans, you can download kits, get tips and screenshots and chat with other fans
Contribute
Are you familiar with this game? Help document and preserve this entry in video game history!