Based on the movie of the same name, something strange is going on in New York City and the Ghostbusters are back and armed with "benevolent slime" to find out what it is. The ghostbusters quest, like in the movie, takes them to an underground river of slime, ghostly hauntings in the courthouse, an abandoned subway line. These action sequences are interspersed with driving sequences with the Ghostbusters car, Ecto-1A Finally, the Ghostbusters must bring the Statue of Liberty to life through the New York Harbor and then navigate it through the city streets. This leads to a final confrontation with a painting come-to-life, Virgo the Carpathian in which all 4 ghostbuster members must fight their way into the museum.
In the action sequences you control a single ghostbuster who can fire his slime weapon and jump. In driving sequences you move the Ecto-1A around the screen and your controls are also a slime gun and jumping. Additionally you must find speed arrows on the ground to jump over huge chasms. Finally, while controlling the Statue of Liberty you may fire her torch straight up into the air (find a power-up torch to shoot diagonally) or let loose the tablet that she carries to destroy all enemies on the screen.
Find 20 "Ghostbusters 2" symbols in any of these levels to obtain an extra life.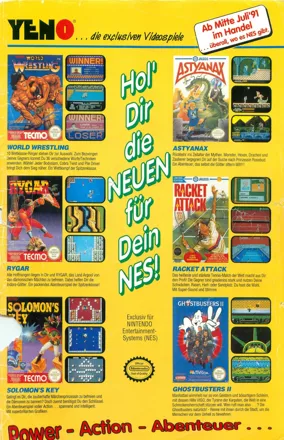 Credits (NES version)
24 People (23 developers, 1 thanks) · View all
Designed by
Directed by
Programming by
Additional Design by
Art Direction
Technical Wizardry
Graphics
Sound Consultant
Musical Arrangements
Quality Control
Developped by

Imagineering Inc. Glen Rock NJ

"Ghostbusters Theme"

Copyright 1984 Golden Torch Music Corp. and Raydiola Music

"Higher and Higher"

Copyright 1967 Chevis Music and Warner-Tamerlane Publishing Corp.

Presented by
Produced by
Product management by
Testing by
[ full credits ]
Contribute
Know about this game? Add your expertise to help preserve this entry in video game history!
Contributors to this Entry
Game added by Shoddyan.
Last modified February 22nd, 2023.