Brian Clough's Football Fortunes
aka: Brian Clough's Fußball Manager
Brian Clough's Football Fortunes is a football management computer board game suitable for two to five players.
Each player takes on the role of a club manager. The object of the game is for each manager to successfully steer his team through the season using his skill to make his team stronger as the game proceeds. Each manager competes with human and computer controlled teams in a ten strong league and the F.A. Cup. From the second season onwards, each team will also enter a European competition (League Champions to the European Cup, F.A. Cup Winners to the Cup-Winners' Cup, and the remaining clubs will go to the UEFA Cup).
The winner of Brian Clough's Football Fortunes is the manager who survives to the end of the game and has the highest number of game points. Game points are points awarded by the computer program, based on each managers performance in League and Cup competitions and on the amount of cash the player has left at the end of the game.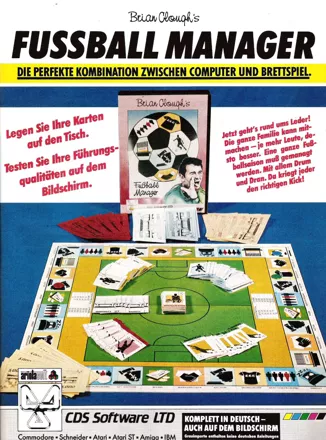 Credits (Commodore 64 version)
Contribute
Know about this game? Add your expertise to help preserve this entry in video game history!