TurboGrafx-16 Mini
aka: PC Engine Core Grafx Mini, PC Engine Mini
Description
The TurboGrafx-16 Mini is a miniaturized replica of the console of the same name, and features the following titles.* Air Zonk
Unlike the usual mini systems, which tend to feature heavily modified lineups between regions. The TG16 mini shares a nearly identical (Only lacking 2 titles, with an extra game taking their place.) lineup with it's Japanese counterpart, the PC-Engine Mini, and as such also includes the following PCE titles. Repeats from the Turbografx side included.* Aldynes
Fantasy Zone (also includes an alternative version with a palette closer to the arcade release, accessible by holding select while choosing the game through the UI.)
Gradius (also includes an alternative version with a palette closer to the arcade release, accessible by holding select while choosing the game through the UI.)
Salamander (also includes an alternative version with a palette closer to the arcade release, accessible by holding select while choosing the game through the UI.)
Soldier Blade Special: Caravan Stage (hidden game accessed by holding select while choosing Soldier Blade)
In typical M2 fashion, there are several little details available to further emulate the TG-16 experience. Such as a border designed to recreate the Turbo Express handheld console, and the ability to load CD titles using the wrong system card.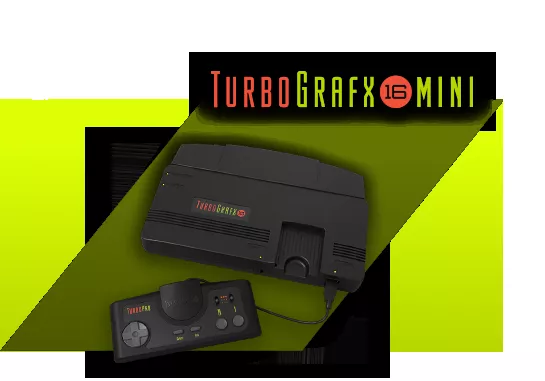 Credits (Dedicated console version)
163 People (126 developers, 37 thanks) · View all
Producer
Director
Planners
Programmers
Library & Tools
Graphic Designers
UI Designers
Sound Engineers
[ full credits ]
Contribute
Know about this game? Add your expertise to help preserve this entry in video game history!
Contributors to this Entry
Game added by Krvavi Abadas.
Additional contributors: Kabushi.
Game added June 5th, 2020. Last modified March 9th, 2023.