Sly 2: Band of Thieves
aka: Kaitō Sly Cooper 2, Sly 2 : Association de Voleurs, Sly 2: Bando de Espertalhões, Sly 2: De Dievenbende, Sly 2: Konnakopla, Sly 2: La Banda dei Ladri, Sly 2: Ladrones de Guante Blanco, Sly 2: Tjuvgänget, Sly 2: Tyvebanden, Sly 2: Tyveribanden, Sly Cooper 2: Band of Thieves, Sly Raccoon 2
Moby ID: 16197
Thief and raccoon Sly Cooper returns in a new cel-shaded platforming adventure wherein he forms a band of thieves with Bentley the turtle and Murray the purple, hippo-like creature, which each have their own role within the game.
Sly is the fastest, most agile member of the band of thieves and still is the character you play with the most. But certain missions require the special abilities of Bentley, who is smart and can drop bombs, as well shoot enemies from a distance. Other missions require the muscles of Murray, who can lift nearly everything, including enemies.
The main goal of the game is the retrieval of a number of clockwork pieces from different locations around the world. Each theft has to be prepared with a number of sub-missions which have to be completed before the 'real thing' can begin.
Spellings
怪盗スライ・クーパー2 - Japanese spelling
怪盜史庫柏 2 - Traditional Chinese spelling
狡狐大冒险2:贼团 - Simplified Chinese spelling
슬라이쿠퍼2 괴도 브라더스 대작전 - Korean spelling (Hangul)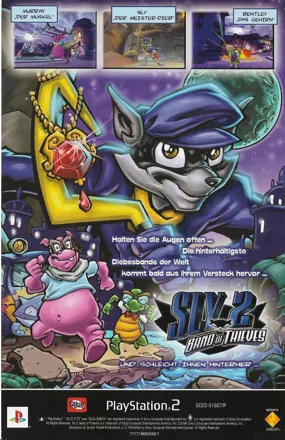 Credits (PlayStation 2 version)
214 People (155 developers, 59 thanks) · View all
Critics
Average score: 89% (based on 26 ratings)
Players
Average score: 4.4 out of 5 (based on 24 ratings with 1 reviews)
Enough to put you off watermelons for life

The Good
Some of the earlier levels are quite fun. Interesting design. Good backgrounds. The ability to use special moves to jump across wires, ropes and tiny platforms has thankfully been improved since the first game.

The Bad
This game switches between the tedious (roaming around looking for the locations of missions or for various objects such as herbs to intoxicate an elephant), the frustrating (being bashed around by gangs of coppers, rhinos, etc from which you have practically no defence) and the downright infuriating (trying to avoid being seen or heard whilst being bashed around as you attempt to reach and fire sleep darts into watermelons so you can send an enemy to sleep and steal something or other which I spend hours trying to locate and never managed to do so). The characters, despite being well-designed, have paper-thin personalities and the dialogue between them is so flat and tedious it could have been written by a machine.

The Bottom Line
Sly Raccoon and his gang (a brainy tortoise and a muscle-bound hippo) must make their way around various countries and complete the missions needed to find the pieces of the evil metal owl Clockwerk (sic).
PlayStation 2 · by Gary Smith (13) · 2007
Contribute
Are you familiar with this game? Help document and preserve this entry in video game history!
Contributors to this Entry
Game added by Erwie84.
PS Vita, PlayStation 3 added by GTramp.
Additional contributors: Unicorn Lynx, Jeanne, Sciere, Kabushi, monkeyislandgirl, Evilhead, PolloDiablo, erbaltan, Rik Hideto, FatherJack, Flapco, Hipolito Pichardo, rubinho146.
Game added January 12th, 2005. Last modified October 29th, 2023.