UEFA Euro 96 England
aka: Euro '96
Moby ID: 20013
An official licensed game of the European Championships held in England in 1996. All 16 teams are available to choose from and the following Game Types: European Championship, Friendly Game, Practice Penalties and Practice Match (only the opposition's goalkeeper is on the pitch).
A couple of options of note are variable/adjustable wind and a choice of referees each with two difficulty levels of 'vision' and 'discipline' (the latter is available for friendly games only). Long time BBC sport commentator Barry Davies provides the commentary. The game is based on Gremlin Interactive's Actua Soccer engine.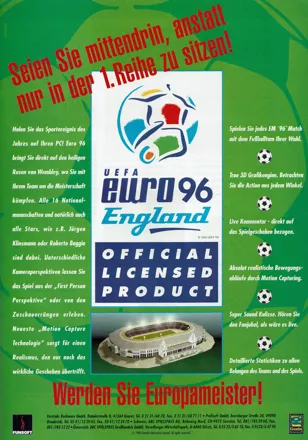 Credits (SEGA Saturn version)
5 People
Critics
Average score: 70% (based on 16 ratings)
Players
Average score: 2.7 out of 5 (based on 4 ratings with 1 reviews)
The Good
There isn't much to be liked in here. Well, the menus look good, it has a few game options and tactics available and the overall presentation is acceptable. Commentary is by far the only interesting point in the game, with the game CD carrying commentary in different languages. And that's all.

The Bad
Awful. Simply awful. I'm talking about the graphics, AI and gameplay, which sums up the core of a game. Graphics suffer from constant clipping in the stadiums, lack of definition of players and slowdown in panoramic cameras - which are the more suitable to play. The difficulty of 3D programming in the console can't serve as an excuse for everything, and the result is a sorry mess that fails in all graphical departments (even kits, which are pretty much a can't miss, have a lot of errors). And remember - Actua Soccer was sold mostly on the graphical prowess of the 3D engine. Which leads us to the second part, gameplay. While I can accept the PC version using only a couple of buttons, due to the predominance of the Gravis Gamepad, the Saturn has a total of eight. The idea of using the shoulder buttons to change cameras was a nice touch, but with still six buttons left in the gamepad, instead of using either X or Y as a lob button, Gremlin left the original settings unchanged, with a lot of functions being only accessible by pressing pass and shoot at the same time. Playing from dead balls is mostly a question of turning the ball. Anyone who wants to call this "Arcade controls" should rest their eyes on REAL arcade games.
AI does not seem to exist a lot of time. I've seen goalkeepers jump out of goal to get wild crosses, just to touch the ball backwards, and then jump over it, getting inside of the goal. Computer team AI pretty much repeats two or three plays over and over, particularly in corners, where they either cross against the first man, or hit a perfect corner, where the forward just has to tap-in for a goal.

The Bottom Line
In case you're wondering the one-liner, World Cup Carnival was the first fully licensed FIFA game ever released, in 1986. Due to developing problems, the publishers acquired an older game and refitted it with licensed graphics. The result was a poor, outdated and outclassed game that managed to get some of the worst reviews of the time (including a zero from Amstrad Power). And oh, surprise, surprise. This is exactly what happens here. While I'm not an Actua Soccer fan and dislike pretty much all games in the series, with the exception of the fantastic UEFA Challenge, the game is simply too poor for my unwillingness to accept the game as "good" or even "passable" as not being able to play it properly. I remember playing Actua Club Edition and 3 for a fair while, and none was as frustrating as Euro 96.
The only reason why anyone should be interested in getting the game is to complete collections, in any other cases steer away from it. Failing in all key aspects of a football game, Euro 96 is a good reason anyone should be thankful EA acquired both European Cup and World Cup licenses around 1997.
SEGA Saturn · by Luis Silva (13439) · 2007
Trivia
Taking advantage of the first qualification for a major competition since 1986 and the dominance of the Sega Saturn, the game was heavily marketed in Portugal, and was one of the first localized titles released in the market. A massive TV campaign included FC Porto players Domingos Paciência and Vitor Baía (which also gave interviews about the game) was started before the tournament and commentary was provided by the late Jorge Perestrelo, who would provide commentary for EA's games in 2003.
Contribute
Are you familiar with this game? Help document and preserve this entry in video game history!
Contributors to this Entry
Game added by Jack Lightbeard.
SEGA Saturn added by Kohler 86.
Additional contributors: Luis Silva, Picard.
Game added November 14th, 2005. Last modified February 22nd, 2023.