Red Zone is a helicopter action shooter in which you pilot an AH-64B Apache into the heart of enemy territory to thwart the plans of a nuclear armed dictator. Under threat of global nuclear war the dictator has begun to annex his neighbor countries, with plans to continue his territorial expansion, so three special operatives are covertly sent in with a lone gunship to remove his ability to wage war.
The majority of the game consists of air-to-ground attack while flying in the Apache, using its hefty loadout of rockets, guided missiles, built-in 30 mm cannon and defensive infrared air-to-air missiles in order to eliminate the hostiles from the air, land and sea. Fuel drums, repair kits and ammunition depletion are both factors to keep in mind, and careful planning of where the pickups are located so that the chopper is able to stay in the air and is able to keep fighting, elements that are very similar in implementation to the Strike series. Differences between the games include the fact that as your systems get damaged, your helicopter becomes harder to control and the weapon and radar systems become affected.
Interspersed with the plentiful in-chopper combat, there are numerous mission-oriented sequences in which the occupants of the helicopter disembark and perform missions on-foot inside of buildings. Each of the three characters have a unique set of weapons, and the player can choose from either of the three to use, so long as none of them have been killed during previous on-foot missions.
Red Zone bears many gameplay similarities to the early entries of the Strike series of games, though while the first three games of that series had a fixed isometric point-of-view, Red Zone has a straight-down POV that rotates along with the helicopter. Red Zone is also highly reminiscent of Zyrinx's earlier and similarly technologically advanced Genesis game Sub-Terrania, with the most notable similarities being in the relative difficulty of the games, and in the manipulation of the Genesis' hardware into providing visual effects not seen in other games, such as simulated video.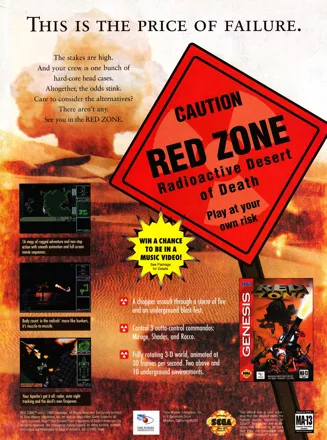 Credits (Genesis version)
12 People
| | |
| --- | --- |
| Producers | |
| Code | |
| Graphics | |
| Music | |
| Manual Writer | |
| Additional Code | |
| Character Animation | |
| Acting & Math Support | |
Trivia
Demo version differences
An earlier build of Red Zone was circulated apparently as a technology demo, with many of the developers' technology tricks already present and able to be ogled. The ROM file of this demo, titled HardWired, is now freely distributable on the internet as part of its Public Domain property. Aside from the numerous yet subtle beta vs retail differences, the HardWired build included an 'in-house' menu option that launched a 2-player co-operative mode for the in-building missions, a feature that was later removed from the final release.
Contribute
Know about this game? Add your expertise to help preserve this entry in video game history!