Hearts of Iron II: Doomsday
Hearts of Iron II: Doomsday is stand-alone expansion of the Hearts of Iron II. The original game is included with improvements.
It is 1936 and Nazi Germany is about to change the course of world history. Years later, the Allies have defeated the Nazi threat and the choice to change history lies in the player's hands to alter the paths of the Allies or the Communists in what possibly may be World War III. Take the role of the government from one of 175 available countries to choose from, ranging from the year 1930 to 1953 as the largest countries in the world prepare for war: United States, China, Germany, France, United Kingdom, Soviet Union, and Japan.
There are four campaigns available (1936, 1939, 1941, and 1944) from the original game and one extra Doomsday scenario (1945) and three alternative What-If scenarios.
Spellings
День Победы II. Новая война - Russian spelling
ハーツ オブ アイアン II ドゥームズデイ - Japanese spelling
鋼鐵雄心:末日戰役 - Chinese spelling (traditional)
钢铁之心II:世界末日 - Chinese spelling (simplified)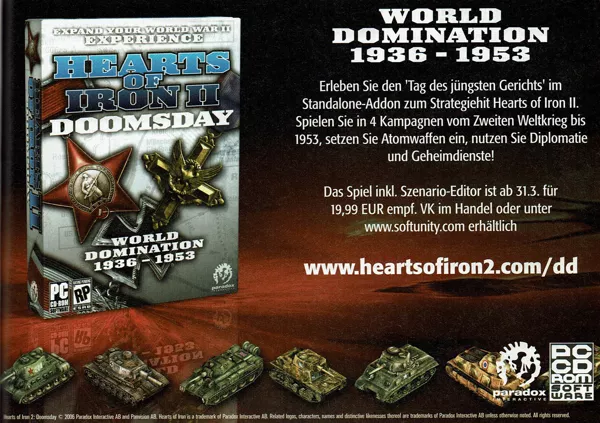 Credits (Windows version)
36 People (34 developers, 2 thanks) · View all
President and CEO
Producer
Director of Publishing
CFO
Programming
Art Director
AI Scripting
Artist
Campaign Design
Manual
PR and Marketing Manager
Product Manager
Quality Assurance
Editing
Original Music
Sound Effects
Translation

European Localization Center

Market coordination - USA
Market coordination - Germany, Austria and Switzerland
Market coordination - UK
[ full credits ]
Trivia
Scenario
The game was set during the time period of 1939 to 1953. The reason for the year 1953 refers to historical death of Stalin (Soviet Union). The developers used this year to mark the "end" of the World War II conflict and possible "what-if's" since Stalin was one of the major key players in WW II.
Contribute
Know about this game? Add your expertise to help preserve this entry in video game history!