Hearts of Iron II
aka: Den' Pobedy 2, Gangtie zhi Xin II, HoI2
Like the first part, this game situate the gameplay at World War II, but the map spans the entire world and allows you to play one of over 175 countries during the course of World War II, not only the typical countries.
This game does not center in battles, instead you have to control the production, research, diplomacy, supply of no communicated regions, the infrastructure and a lot of features that makes this game a long learning curve.
You can play a free game, with all aspects of the game at your disposal or a scenario like Barbarossa, The Coral Sea, the Spanish Civil War, North Africa, and a few for the German Blitz into Eastern Europe and France and the Allied invasions of Italy, Normandy and Japan. While these scenarios teach the basics of combat, the production, research and diplomacy options are limited or entirely absent.
All of the major personalities in the war are here. Photographs or generals, government officials, etc. are all in the game with detailed descriptions.
Spellings
День Победы II - Russian spelling
ハーツ オブ アイアンⅡ - Japanese spelling
钢铁之心II - Chinese spelling (simplified)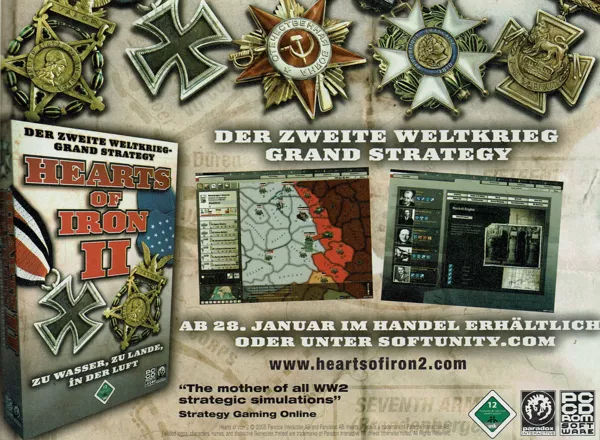 Credits (Windows version)
117 People (115 developers, 2 thanks) · View all
CEO
Producer
Lead Programmer
Game Design
Programming
Additional Programming
Lead Artist
Artist
Graphics Design
AI Scripting
Campaign Design
Battlescenario Design
[ full credits ]
Trivia
Version differences
The German version of the game features some USK censorship on the names. The leader of Germany becomes "Adolph Hiller" and the person at head of the airforce is changed to "Hermann Gorink".
Contribute
Know about this game? Add your expertise to help preserve this entry in video game history!