Maupiti Island
Moby ID: 2567
Maupiti Island is a nonlinear police investigation with graphics in 2D and is the sequel to Mortville Manor.
Whilst famous detective Jerome Lange is at sea, a cyclone (Harry) approaches and obliges his ship to put in at Maupiti Island until the weather calms. Then, as if things were not bad enough already, a woman called Marie disappears from the island! Lange gives up on his holiday to investigate, and discovers many hidden secrets lurking beneath the surface of Maupiti Island.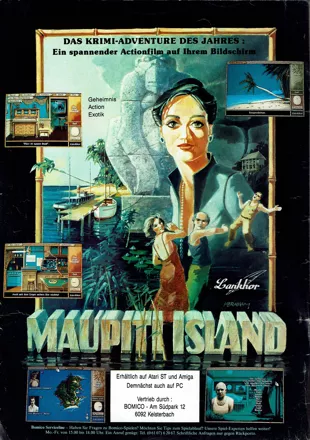 Credits (Amiga version)
10 People
Critics
Average score: 78% (based on 16 ratings)
Players
Average score: 3.9 out of 5 (based on 29 ratings with 1 reviews)
The Good
The game's atmosphere is unparalled. Superb combination of graphics and music/sound, makes you feel you are actually there. It sucks you in, deep. The interface gets a bit used to it, but in the end you will find it great.

The Bad
Too hard for the average gamer. Maybe even way too hard.

The Bottom Line
If you want to play a 'find the suspect, look for clues, ask people about everything' game, I think this one will satisfy you. Providing you can handle the difficulty level, you may even love it.
DOS · by Mark Papadakis (35) · 2002
Trivia
Cancelled sequel
Starting in 1991, Lankhor prepared a third case for detective Jérôme Lange. The game's working title: Suriya. Set in a tranquil monastery in Japan, the adventure (design: Sylvian Bruchon) featured the Maupiti Island interface and graphics by Stephane Polard (look at Lankhor.net for samples). Suriya was scheduled for release in summer 1993.
In early 1993, however, Lankhor published its prestigious project Black Sect. The game turned out a massive flop, selling only a few thousand copies. As a consequence, Suriya was canceled a couple of months before its completion.
Demo mode
Maupiti Island features a demo mode. Press ALT on the title screen to watch the computer play for you. Don't get your hopes too high, though: the demo is terribly slow and doesn't give away the solution to any puzzle - except for one little hint.
Speech
It uses the voice synthesis for all the dialogues (50 minutes of dialogues). A soundblaster its is not necessary to benefit from the dialogues.
Amstrad PC1512
This game is one of the very few to use the rare 640x200x16 screen mode in the PC1512 PCs, which Amstrad added to their implementation of CGA.
Information also contributed by -Chris.
Contribute
Are you familiar with this game? Help document and preserve this entry in video game history!