Description
Unfortunately, it seems like the crudely assembled multi-stage rocket that Jetman created in his first video-game outing (Jetpac) could have been put together a little better. With the rocket disintegrating about him in warp space, Jetman manages to crash land on a previously undiscovered planet, inhabited by hundreds of aliens intent of the total destruction of Earth. Oh no! Save us, Jetman!
Lunar Jetman has a graphical feel to it that is very similar to the original Jetpac game, but the gameplay is quite a bit different. Jetman's jetpac this time only has limited fuel, and that can prove hazardous when those pesky aliens come looking for him. Fortunately, Jetman also has a lunar rover at his disposal. Inside this he can replenish his jetpac's fuel supply as well as travel unmolested about the planet's surface. Unfortunately, the lunar rover can only travel across flat land, so the player must find and set down bridging units to allow the rover to traverse over any craters blocking the way.
Blocking the way to what, you ask? Well, each level has an alien base somewhere. Jetman must locate a bomb (which can be carried on the back of the rover), take it to the base and destroy it before the level's timer runs out. Taking too long results in missiles being launched to destroy the Earth and Jetman himself.
The game contains multiple levels, each obviously more hazardous and tricky than the last, and the player continues playing, racking up points until he runs out of lives.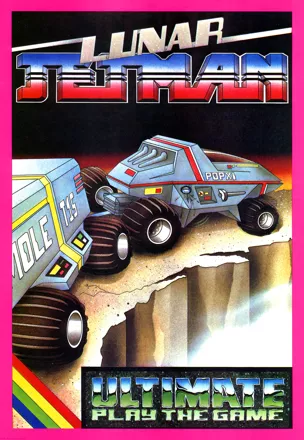 Credits (ZX Spectrum version)
4 People
| | |
| --- | --- |
| Designed by | |
| Programming by | |
| Graphics by | |
| Cover artwork | |
Trivia
BBC Micro version
Lunar Jetman was released for the BBC Micro as part of the Cosmic Battlezones compilation.
A caravan
To one of the issues of Crash magazine, an anonymous player sent a screenshot showing the moon buggy towing a trailer. It created a huge interest among other players that were highly intrigued and were desperately looking for an in-game hidden secret. Debate raged in letters pages and playground, as gamers boasted that they had seen it themselves. However, no matter how real this object may look like, it was a hoax, supposedly planted in the mag by one of the creators of the game. Years later, the game's code was entirely disassembled, showing no trace of such sprite file or data.
Contribute
Know about this game? Add your expertise to help preserve this entry in video game history!