Savage
aka: Project 5
Moby ID: 297
Savage contains three different parts, each with its own style. You can play all three, but to get more than one life on levels 2 or 3, you must first input the code earned on completing the previous level.
You play Savage, a muscular warrior who was imprisoned in a castle. When he broke free, he found out that his imprisonment had been a trick with the sole purpose of imprisoning his love, the maiden. You have to progress through the 3 parts of the game to rescue her.
The first is a simple horizontal-scrolling shooter, in which you use the trajectory of your shots to kill enemies and collect the treasures and improved weapons they drop when killed. The second is a 1st person perspective 3D shooter resembling Space Harrier, with skulls to shoot and monoliths to avoid. In the third you play Savage's Eagle form, flying through platform-style levels avoiding timing-based hazards and shooting anyone who gets in your way. In this section bubbles can be shot to release power-ups.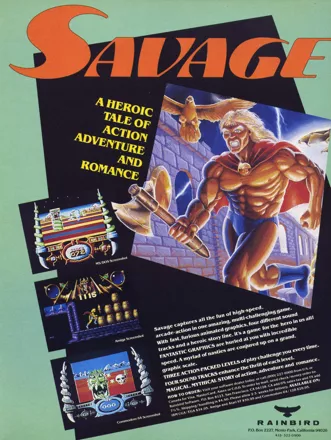 Credits (Commodore 64 version)
Critics
Average score: 75% (based on 15 ratings)
Players
Average score: 3.0 out of 5 (based on 18 ratings with 2 reviews)
A susprising little gem with varied gameplay for action fans.

The Good
I was astonished by how good the graphics were in this game. Not only drawn well, considering how the original graphics from the C64 and Spectrum were so colorful, but by how fast the graphics routines were. I played Savage on a 4.77MHz machine and it was completely playable (and very fun), even though there was moderate game action and quarter-height sprites. (There are other "demo" and "in the know" programming tricks as well, like using verticle retrace for smooth scrolling of game text.)
The music is good and uses an arpeggio technique for simulated 3-voice music out of the PC speaker.
Of course, I should really talk about the gameplay, since that's why we play games, right? :-) The first two sections were fun and fair: Section 1 is a side-scrolling fighting game with powerups to help you. Section 2 is a racing game where you have to shoot stuff in your way--except for the large columns that you threaten to smash into, which can't be destroyed.

The Bad
The third section was a little more difficult than the first two; it's a platform game that makes it difficult to dodge enemies and bullets. Also, the enemies are more difficult than in the first two sections.
I am hoping that an EGA conversion was done, but I don't know of one.

The Bottom Line
There's something here for every fan of action games to like.
DOS · by Trixter (8946) · 1999
A wonderful classic you just can't miss.

The Good
The graphcis are marvellous, the music is simply great and the gameplay is amazing. It's technologically groundbreaking, having smooth animations and music on a 4.77mhz machine.

The Bad
It can get quite difficult at times.

The Bottom Line
Amazing, amazing and a little more. Play it or die.
DOS · by Tomer Gabel (4539) · 1999
Trivia
EGA version
Apparently a very rare EGA version of the game also exists. Most of the graphics are 320x200, but the 1st-person perspective gameplay of level 2 uses 640x200 to get extra detail in the approaching columns while they are still far away.
Awards
ST Format

January 1990 (Issue #06) - Included in the list 50 Games of the Year. Category "Real Dogs"
Contribute
Are you familiar with this game? Help document and preserve this entry in video game history!