The Amazing Spider-Man and Captain America in Dr. Doom's Revenge!
aka: El Asombroso Spider-Man y Capitán América en La Venganza del Dr. Muerte, The Amazing Spider-Man and Captain America in Doctor Doom's Revenge
Moby ID: 301
Latverian president Dr. Doom is a terrible enemy, so when he hatches a plan to blow up New York City with a stolen Atomic bomb, one Marvel superhero is not enough to stop him. As the lavishly-drawn comic bundled with the game explains, Spider-Man and Captain America must join forces to go to Latveria and foil his plans.
The main action in the game is a side-scrolling beat 'em up, in which you alternately control the two characters. They each have their own moves to deal with The Rhino, Electro and other foes. Moves are context-sensitive based on the distance between your character and the opponent. Energy bars decrease as you each take hits. After each section you get comic-book sequences as a reward, and to set the scene of the evolving story.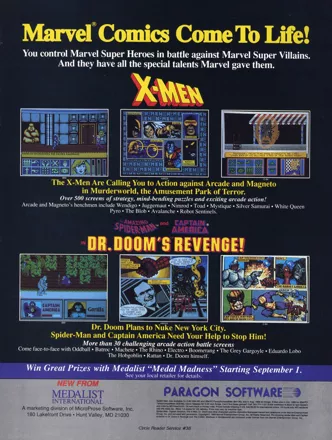 Credits (Commodore 64 version)
13 People
| | |
| --- | --- |
| Game Design by | |
| Programmed by | |
| Artwork by | |
| Original Music Composed by | |
| Manual by | |
| Packaged and Marketed by | |
| Cover Pencils | |
| Cover Inks | |
Critics
Average score: 50% (based on 8 ratings)
Players
Average score: 3.3 out of 5 (based on 35 ratings with 1 reviews)
An innovative game which is overall not very good.

The Good
I like this game. I used to play it on my XT and remembered it since, 'till I found it somewhere on the 'net and recalled the really awesome comic sheets. The graphics is really good. It's detailed, the comic sheets are very well drawn and the game experience in itself is very new. This is AFAIK the first (only?) game of its genre.

The Bad
Well, the game itself just isn't very fun.

The Bottom Line
An interesting experience, if nothing more.
DOS · by Tomer Gabel (4539) · 1999
Trivia
Extras
This game came with a limited-edition comic book. According to the 2003 Official Overstreet Comic Book Price Guide, a Near Mint copy would be worth... $3.
Manual
The game featured the following super-villains: Eduardo Lobo, Grey Gargoyle, Machete, Boomerang, Oddball, Rattan, Electro, Hobgoblin, Rhino, Batroc, and Dr. Doom, and the manual contained detailed biographies and vital statistics for them. This information was used as copy-protection, as the game would not start until the player could answer a question about a character.
Awards
Computer Gaming World

November 1996 (15th anniversary issue) – #27 Worst Game of All Time

ST Format

August 1991 (Issue #8) - #8 Worst Atari ST Game of All Time (Editorial staff vote)
Information also contributed by Macintrash and Terrence Brosk
Contribute
Are you familiar with this game? Help document and preserve this entry in video game history!