Description
A team of 7 scientists has flown on a spaceship to find a way to stop an asteroid on a collision course with Earth when all communication is lost with them. You are a cyborg (half-man and half-machine) sent to rendezvous with them and to find out what happened to them. Upon landing, you discover the asteroid is in fact an alien ship bent on conquering Earth and only you can stop them.
Each level of the alien ship has rooms to explore and you must either avoid sinister aliens and robots or destroy them. Computer terminals encountered will give you access codes needed to enter locked areas of the ship. The game screen has the top half showing your character and location scene while the bottom half has a read-out panel showing an analysis of items encountered and an options display with commands like: character analysis, scanner, examine, status, get, put, hold, and inventory. As a cyborg, you have a power unit which has a shield that depletes when firing shots but gradually regenerates. If the shield is totally depleted then the power unit will sustain damage and you will die if it in turn is depleted. This was one of the first games to have a black hero who was not a sports star.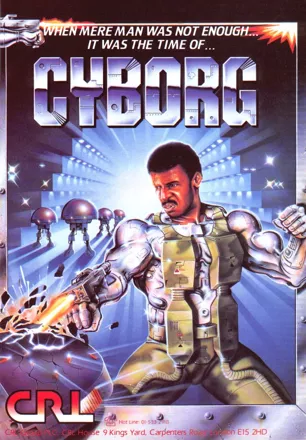 Credits (Commodore 64 version)
Critics
Average score: 69% (based on 5 ratings)
Players
Average score: 3.2 out of 5 (based on 1 ratings with 0 reviews)
Be the first to review this game!
Trivia
Cancelled ports
Spectrum and Amstrad versions were planned but never completed. The Spectrum's colour attribute issues suggest that recreating a recognisably black character was probably over-ambitious.
Contribute
Are you familiar with this game? Help document and preserve this entry in video game history!
Contributors to this Entry
Game added by Scaryfun.
Antstream added by lights out party.
Additional contributors: Martin Smith.
Game added November 16th, 2007. Last modified May 29th, 2023.