Next Life
aka: Reprobates: Aux portes de la mort, Reprobates: Insel der Verdammten, Reprobates: U Bram Śmierci, Zatracenci
Next Life is a point-and-click adventure game that involves life after death - or, at least, the afterlife of a select group of people who were all killed in terrible accidents.
The untimely death of 23 year old Adam Raichl, for instance, happened suddenly when his SUV was struck by a tanker truck, bursting into flames. Players take control of Adam after the accident when he awakes not in a morgue or hospital, but instead on a strange island. And, he is not alone. There are others here who have experienced similar fates. Talking with them, Adam learns that their deaths occurred during different times and places, and under various circumstances. Why are they all here? Did he really die, or is he still alive and just having a comatose dream? If he is still living, how can he leave this place?
Explore Adam's limbo, talk to the people there, find objects and solve nonsensical puzzles to answer those questions and many others that arise. Adam will come upon many types of puzzles, some involving inventory objects (either alone or combined) and others requiring quick reflexes to solve in arcade-like manner. Talking to the NPCs after new discoveries are made is the key to other puzzle solutions.
The game was created using the AGDS engine, version 3.
Spellings
Reprobates. Вторая жизнь - Russian spelling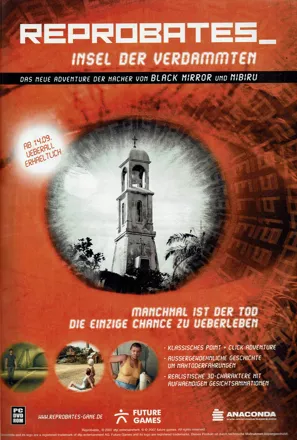 Credits (Windows version)
74 People · View all
Producer
Associate Producer
Executive Producer
Testing Coordinator
Senior Product Manager
Product Manager
Art Director
Lead Illustrator
Graphic Designer
PR Coordinator
Web Designer
Quality Assurance

Quantic Lab www.quanticlab.com

Project Manager
Lead Tester
Testers
Legal Affairs
Business Development
CEO
VP
CFO
VP Global Production
[ full credits ]
Critics
Average score: 62% (based on 28 ratings)
Players
Average score: 3.6 out of 5 (based on 14 ratings with 0 reviews)
Be the first to review this game!
Contribute
Know about this game? Add your expertise to help preserve this entry in video game history!