The Daedalus Encounter
aka: Daedalus Episode 1: Nanpasen no Alien
Moby ID: 3363
The interstellar war is over, leaving you, a casualty, as a disembodied brain inside a life support system. Your buddies rescue you from the lab so that you can go exploring - scavenging the galaxy for wreckage and artifacts left over from the war. In due course, you stumble literally into an alien craft. With your own craft disabled, and the alien ship on a collision course, you must explore it to find out what has gone wrong and to make a course correction.
Gameplay consists of conversations with your colleagues (displayed as live-action video), animated exploration sequences, as well as puzzle-solving that mostly involves figuring out how to operate alien mechanisms. There is also a maze sequence and sporadic action-based tasks. There is no inventory to speak of, because, being a brain in a box, you have no pockets.
All the action takes place in an in-game window that is your view of the world. It takes up only a small part of the screen and the rest of the screen is taken up with a kind of fleshy 'inside of your head' background that is there to remind you that you are inside a machine. Three difficulty settings, in-game instruction, and assistance, as well as a few extras (such as high-resolution pictures) are included.
Spellings
デイドラス エピソード1:難破船のエイリアン - Japanese 3DO spelling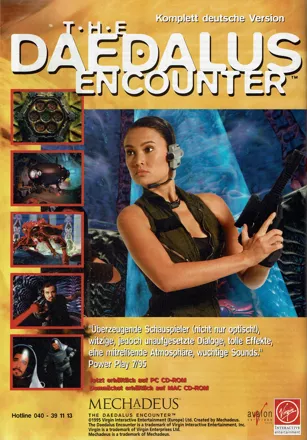 Credits (Windows 3.x version)
136 People (122 developers, 14 thanks) · View all
Packaging Design
Ari
Zack
Creative Director
Technical Director
Programming Directors
Senior Artists
Senior Animator
Live Action Director
Screenplay
Music and Sound
Executive Producers
Producer
Associate Producer
Production Designer
Production Design
[ full credits ]
Critics
Average score: 64% (based on 29 ratings)
Players
Average score: 3.1 out of 5 (based on 23 ratings with 1 reviews)
You start by dying, almost, and end up saving the day

The Good
This is a game that tries very hard to be an interactive movie.
You start as an officer in a spaceship in an intergalactic war. Your ship gets hit and you black out. Next thing you know your friends have 'liberated' you from hospital. The war's over and you are a mind inside a tin can. They hook you into the ships systems and together you go off scavenging the galaxy.
The bit about being a 'mind in a tin can' may be a clever dodge to limit the size of the active screen showing the FMV sequences, but it worked for me.
The acting and sound quality are both very good.
There are some fiendish door opening puzzles, a tricky 3D-ish maze that took me an age to map because .... well it just did, a bit of shooting, timed puzzles and a decent story.
You can make wrong choices and as a result you fail / die, but you're not punished unduly for this. In some sequences restart from the beginning of the sequence is automatic.
If you miss clues you won't be able to progress, I'm pretty certain that you can't run into a dead end in this game. (I hate it when you can't complete a game because you didn't do / pick up something really early on.) I certainly cannot remember a situation where had to go back and replay large chunks of this game.

The Bad
Why do aliens need to complete an IQ test just to open a door? I missed some of the clues to the door opening puzzles so I had to resort to a cheat sheet to progress. I don't like being beaten by a game or a puzzle and this one got the better of me.

The Bottom Line
This is a game that tries very hard to be an interactive movie and I think it pulled it off.
It is a good game that I really enjoyed playing, even when I got stuck I kept coming back to try something else. When I could not crack a puzzle I cheated, not proud of that but it shows that the game had me hooked and that I cared enough to want to see what was next, and to me that's the mark of a good game.
Windows 3.x · by piltdown_man (227460) · 2010
Trivia
Gag
In the beginning of the game when exploring the ship, you come across a dead alien. On their back is a post-it note saying "Kick Me".
Awards
PC Player (Germany)

Issue 01/1996 - CD-ROM Babe of the Year 1995 (for actress Tia Carrere)
Information also contributed by piltdown man
3DO Rating
The official release was rated 12, while the demo CD was rated E.
Contribute
Are you familiar with this game? Help document and preserve this entry in video game history!