Diplomacy
aka: Diplomacy: The Game of International Intrigue, Dyplomacja: Gra o międzynarodowych intrygach
Diplomacy is the third game based on Avalon Hill's board game of the same name, where the objective is to conquer the known world (Europe and the Middle East) through diplomacy and war before the other opponents.
Turned-based gameplay occurs on the political map of Europe and the Middle East in Spring 1901. The player may choose one of the 7 (seven) major powers: Austria, England, France, Germany, Italy, Russia, or Turkey, and compete against human or AI opponents.
During each turn, the player may choose to move units (either infantry or naval units) into enemy territory in order to occupy them. As only one military type is allowed per province, offensive and defensive maneuvers requires support from adjacent friendly units or acquiring backup support from adjacent units from other nations through diplomacy. Even more so as a one-against-one military unit will end in a stalemate (or a win for the defensive team).
Certain provinces are more important than other provinces, indicated by a star on the province. These signify supply depots which help maintain military units. The more supply depots the player controls, the more military units the player may build during the build phase.
Diplomatic endeavours themselves may be proposed by the player or other players, consisting of (among others) support units (for offensive or defense), transportation of infantry by naval units (convoy), alliances and DMZ (De-Militarized Zone) agreements. This is done so by selecting a target player and creating a "draft proposal" on the political map by, for example, moving own or units of the target player. This draft is then suggested to the target player for reply. If accepted, both (or more) players may choose to honor the agreement to be carried out the following turn. There is however, no obligation to accept, to honor any form of agreement, as backstabbing is considered part of diplomacy.
Spellings
Дипломатия - Russian spelling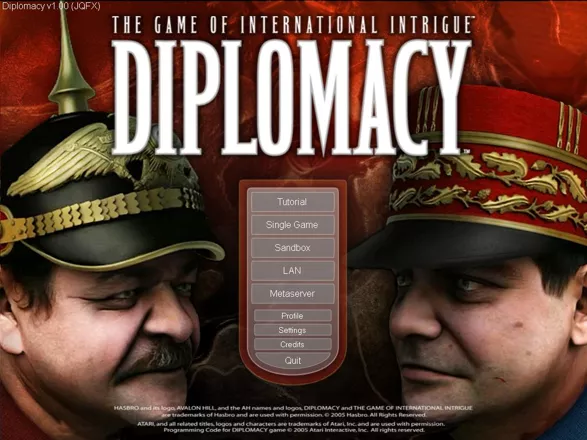 Credits (Windows version)
38 People (20 developers, 18 thanks) · View all
CEO
Producer
Game Designer
Lead Programmer
Programming
Additional Programming
Lead Artist
3D Artist
2D Artist
Tutorial
Lead Tester
[ full credits ]
Trivia
Awards
GameSpy

2005 – Coaster of the Year (PC)
Contribute
Know about this game? Add your expertise to help preserve this entry in video game history!