Dragon Quest IV: Chapters of the Chosen
aka: Dragon Quest IV: L'Epopée des Elus, Dragon Quest IV: Michibikareshi Monotachi, Dragon Quest: Capítulos de los Elegidos, Dragon Quest: Die Chronik der Erkorenen, Dragon Quest: Le cronache dei prescelti, Dragon Quest: The Chapters of the Chosen
(prices updated 9/23 3:33 AM )
Description
Dragon Quest IV: Chapters of the Chose is a remake of the NES game and the PlayStation version and tells the same story with an added chapter.
The gameplay is the standard RPG: exploring lands and dungeons with a party, encountering enemies and battling them with weapons and magic to gain experience points to level up their character. The game is divided in six chapters, the first four tells of the hero (or heroine) and lets the player partake in quest with a party of characters while the fifth one has the player take control of the hero/heroine. The sixth chapter is a new feature and was not in the original game that has the player take control of the hero and his friends on a quest for revenge.
The player utilizes the stylus pen to pick commands in the battle interface menu and uses the D-pad to move around on the map. In addition to the classic features, new ones were added as well such as a Casino minigame and the ability to set up their characters strategies in the final chapter (which are non-playable). The map has also been tweaked a bit and players can save their game in the House of Healing instead of visiting the king.
Spellings
ドラゴンクエストIV 導かれし者たち - Japanese spelling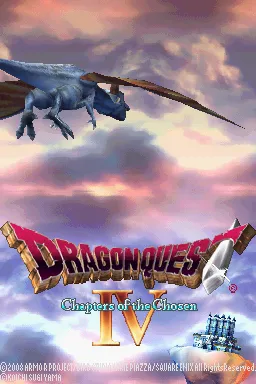 Credits (Nintendo DS version)
177 People (174 developers, 3 thanks) · View all
Scenario & Game Designer
General Director
Character & Monster Designer
Music Composer
Art Director
Performer

Tokyo Metropolitan Symphony Orchestra [Overture]

Planning Director
Character CG Designer in Chief
World CG Designer in Chief
Programmer in Chief
Development Director
Scenario Writers
Character CG Designers
[ full credits ]
Critics
Average score: 81% (based on 47 ratings)
Players
Average score: 3.5 out of 5 (based on 14 ratings with 0 reviews)
Be the first to review this game!
Contribute
Are you familiar with this game? Help document and preserve this entry in video game history!