Gir Draxon, Supreme Overlord of the Arcturan Empire has declared war on the Terran Federation. The leaders of Earth respond by sending the Terran Fleet on their way to Arcturus to intercept Draxon's armada. But this was a deadly mistake: the Arcturans have discovered warplinks, which allow them to transport troops from one link to another instantaneously, even across vast interstellar distances. With the fleet halfway across the galaxy, the enemy has already reached the Sol system and occupied Saturn's moon Titan. Now, humanity's only hope is the experimental Raven armored vehicle. One courageous pilot must take the Raven through seven different star systems, from Titan to Arcturus, defeating any and all Arcturans, using the warplinks to travel from one system to the next.
Stellar 7 is a first-person action game inspired by Atari's Battlezone, with similar wireframe graphics. In each of the seven levels, the player must defeat a number of enemies. Doing so reveals the warplink that takes the Raven to the next system.
Next to a cannon, the Raven is equipped with radar, shields, and a cloaking device. The cloak drains the energy level of the vehicle substantially, and the depletion of the energy reserves or the shields destroys the Raven. Some of the levels include fuel bays that allow the player to recharge the energy.
Various enemies await on the different worlds. These include both ground vehicles (sleds, tanks, hovercraft) and aircraft as well as stationary laser turrets, homing bombs, robot drones and more. All enemies vary in firepower, speed and armor ratings. An in-game mission briefing introduces most adversaries, but some special ones come as surprises.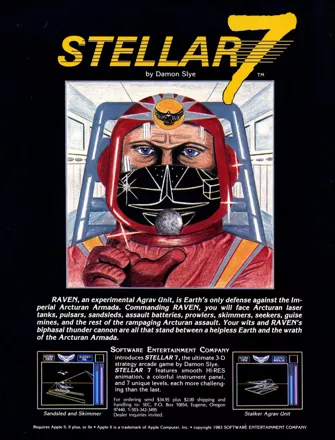 Credits (Apple II version)
| | |
| --- | --- |
| Programmer | |
| Designer | |
| Artist | |
Trivia
How to Squeeze an Arcade Into Your 64
Stellar 7 on the Commodore 64 appeared in an article by Julian Rignall in Zzap! (Issue 3 Jul 85 p80) about how accurate to the arcade original, Battlezone it was based on. It scored 87%.
Penguins
Most Penguin Software (or Polarware) games contain a humorous little remark about Penguins on the back cover of their games. In this case it is "Penguins have yet to defy gravity." Since this is some sort of a Penguin software "trademark" it is only featured on the Penguin software release of the game, not on other package variations from other companies.
Sales
According to the magazine Retro Gamer, the Apple II version sold about 8.000 copies in 1982.
Awards
Zzap!

May 1985 (Issue 1) - #22 'It's the Zzap! 64 Top 64!'
Contribute
Know about this game? Add your expertise to help preserve this entry in video game history!