LEGO Batman: The Videogame
Moby ID: 42380
LEGO Batman is based on the other games of the same name, with multiple changes made to accommodate the DS platform and take advantage of its unique features. It adds a new Villain Hunt minigame, several new character abilities and more unlockable characters.
Batman's enemies have teamed up and Batman and Robin must co-operate to stop them. The game starts in the Batcave, which serves as a hub. Batman & Robin have three chapters of five levels each. The story is told between levels using comic-book style still frames
You also can play as villains. You can unlock a secret path to Arkham Asylum, which serves as their hub. The villains have the same levels, but the story is different, as are the object and enemy placements.
In each level, you play as two characters and can tag between them at any time. You advance through the levels by defeating enemies, platforming and solving puzzles. Enemies and objects spill out LEGO studs when smashed, which you use to purchase unlockables, such as additional characters. There are dozens in total.
There are also vehicle levels, where you use the Batmobile or other themed transports to avoid obstacles and shoot enemy vehicles. As with the pedestrian levels, you must also find hidden items and areas.
The first time through, you play with set characters determined by the plot, but once a level is beaten in story mode, you can go back through in free play with any character.
Characters have different abilities which can be used to access special areas and find secrets. For instance, Mr. Freeze is immune to freezing gas and can walk to areas that would freeze Batman, meanwhile, Batman can double-jump and get on ledges that are too high for Mr. Freeze to reach. Characters also have alternate outfits with special abilities to unlock. For instance, Batman has a demolition suit that he can use to bomb things.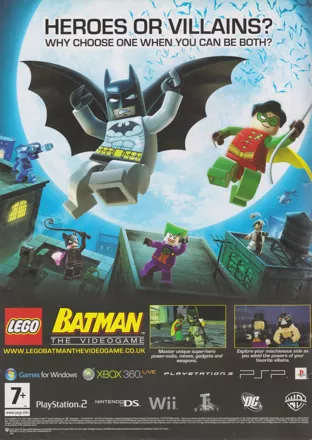 Credits (Nintendo DS version)
218 People (176 developers, 42 thanks) · View all
Director
Producer
Lead Programmers
Art Director
Lead Artist
Lead Technical Artist
Design Director
Lead Designer
Animation Manager
Programming
Artists
Designers
[ full credits ]
Critics
Average score: 71% (based on 14 ratings)
Players
Average score: 4.4 out of 5 (based on 2 ratings with 0 reviews)
Be the first to review this game!
Contribute
Are you familiar with this game? Help document and preserve this entry in video game history!
Contributors to this Entry
Game added by Ace of Sevens.
Game added September 19th, 2009. Last modified September 19th, 2023.