The Sting!
aka: Der Clou 2, Der Clou 2: City of Darkness, Der Clou! 2: Die Einbruchsimulation, Road of the Sting, The Sting! El Golpe del Siglo, The Sting!: Kariera Gangstera, The Sting!: The Blag Simulation, Va-Bank!
Matt Tucker became famous as a master criminal, he was good at breaking and entering and others knew this too. Because of this, the police set up an elaborate trap and put Matt away to prison for several years. Now Matt's time has been served, and he returns penniless to a city that has changed while he was gone. Luckily he still has a couple of friends who can help him out, and as for the rest of it: burglary is like riding a bike, you never quite forget...
The Sting is a crime simulator played from an overhead perspective (though there is a first person view toggle). Starting out, Matt Tucker has been reduced to a small-time "hood" who must scout out locations that might be good to steal from. There are different shops such as the Hardware Store and the Pawn shop as well as taxis to take him between locations. Matt will meet different shady characters who can act as accomplices on his different heists... in exchange for a cut of course. Each of these persons will have different proficiencies at different tasks, as well as a different weight. Matt must also be sure to choose a vehicle that is fast enough and able to store enough to make the robbery worthwhile.
All this planning is done from Matt's apartment where actions and movements are carefully laid out, before going "live" to find out if the plan works or if everyone has gotten caught. Different locations can include patrolling guards and police, security systems, locked doors and cabinets and other obstacles. At the same time, Matt's different tools are useful in different situations as well as making different levels of noise. As Matt successfully completes a string of robberies, his reputation in the underworld goes up and skills improve, allowing him to take harder and harder jobs, all the way up to a masterpiece Sting! against the mysterious Ministry of Light which runs the city.
Spellings
Ва-банк! - Russian spelling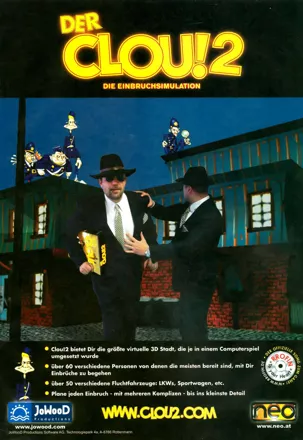 Credits (Windows version)
120 People (79 developers, 41 thanks) · View all
Producer
Lead Content Creator
Content Creator
Game Designers
Lead Programmer
Programmers
Lead Digital Artist
Digital Artists
Artwork
Music
Sound Design
Sound Effects
Cat Overdub
Lead Project Manager
Project Manager
[ full credits ]
Trivia
The main character's name was changed from Matt Stuvysunt (from The Clue!, the prequel) to Matt Tucker for The Sting.
Contribute
Know about this game? Add your expertise to help preserve this entry in video game history!