Rumpelstiltskin's Labyrinth of the Lost
aka: Labirinto Perdido Rumpelstiltskin, Rumpelstiltskin y el Laberinto de los Perdidos
Rumpelstiltskin's Labyrinth of the Lost follows the original fairy tale, as you begin by meeting the miller's daughter, her father, the king, and other characters. The player can click around each scene, which are filled with characters, animals, and other surprises. In this short part Labyrinth of the Lost plays as an interactive story, and here and in some cut scenes later on it features Disney-like graphics and animations.
In the "Labyrinth" part, the title changes from an interactive story to an educational game. Once you (as the miller's daughter) meet Rumpelstiltskin, he will send you on a quest through the labyrinth each night. Your goal in the labyrinth is to find 3 golden orbs and bring them to the so-called "prize room." A cut-scene will follow that continues with the story. To find the orbs, you have to consult the so-called "Oracles" in the Labyrinth, and answer the questions that pop-up (about mythology, history etc.).
The player can choose between easy and hard mode, and turn on or off the questions in the labyrinth. The miller's daughter will sing a few songs during the game. There are no captions, and no options to change other settings.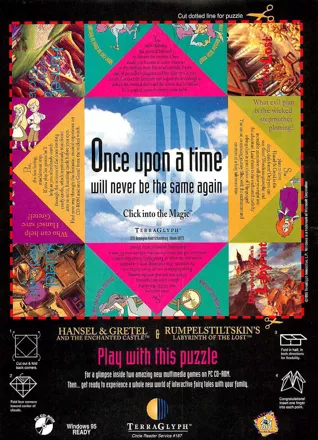 Contribute
Know about this game? Add your expertise to help preserve this entry in video game history!