The Amazing Spider-Man
Moby ID: 471
In The Amazing Spider-Man, Spider Man has to rescue his girlfriend Mary Jane who was been kidnapped by the super villain Mysterio. The whole game takes place on a film set studio.
This game is primarily a platforming game in which Spider-Man fights against various enemies. Those can be stunned with Spider-Man's iconic web substance, but touching them or other hazards in the game world will decrease his health. Another important part of the gameplay are puzzles, mostly with the goal to deactivate some of Mysterio's gimmicks, e.g. changed gravity, to clear the path. Spider-Man can climb walls and shoot grappling hooks.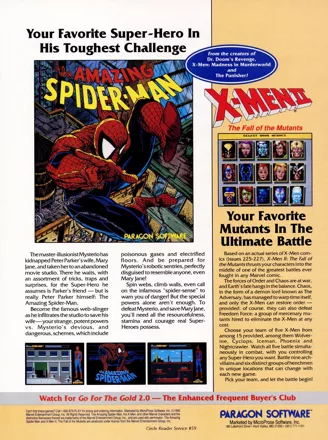 Credits (DOS version)
10 People
| | |
| --- | --- |
| Game Design | |
| IBM PC Implementation | |
| Graphic Design | |
| Sound Sequences | |
| Additional Design | |
| Documentation Text | |
| Documentation Design & Typesetting | |
| Package Design | |
| Package Copy | |
| Box Cover Illustration | |
Critics
Average score: 62% (based on 13 ratings)
Players
Average score: 4.0 out of 5 (based on 32 ratings with 1 reviews)
Not what you'd expect, but enjoyable puzzle/platformer

The Good
This game was a little ahead of its time, to be honest. It was much less focused on action and beat-em-up, and far more focused on solving puzzles and avoiding un-necessary conflict. I can see why most kids did not like the game, however in today's gaming society it would've faired much better.
The game is actually designed quite well, with puzzles that are not only challenging but fun (for the most part) and very unique. This game is truly a DOS generation gem and I'd recommend it to anyone.

The Bad
Well when you play a spiderman game you'd probably expect to be able to kick and punch people, and directly kill enemies. I remember as a kid not being able to do this in a spiderman game was very frustrating to me at first, but I grew to enjoy the game for what it was (not a side scroller beat em up). So it's not what you'd expect, especially considering other games around that time such as double dragon and other superhero games.
The fact that you turn into a skelton freaked me out as a kid too as you die.

The Bottom Line
You're only tools available are jumping, and shooting a line of web in 8 directions. You can crouch as well, and cling to ceilings and walls.
You do not directly kill any enemies, webbing them results in a temporary stun, and touching an enemy will gradually do damage over time to you.
You have to use your brain to find clever ways to either avoid enemies, or kill them (aka hitting a lever to drop a rock on them, or to make them drop into a pit, etc.) There's also plenty of interesting physics in the game. There's rooms where gravity is shifted in certain areas, rooms where theirs sliding ground, a spaceship with a ton of crazy stuff... just an awesome game with tons of variety. Visuals are awesome too. Every level is supposed to represent a "cut" as if a director were stringing together scenes from different movies.
DOS · by brian cronrath (2) · 2010
Trivia
Bugs
The game can be theoretically beaten in about five minutes due to a glitch that allows the player to go through several walls.
References
The main menu art depicts Spider-Man in the same style and pose as Todd Mcfarlane's cover art for Spider-Man Vol. 1 issue #1. The box art is also in Todd Mcfarlane's style. Spider-Man (1990) was a new Spider-Man comic book series that debuted in 1990 (the same year as this game's release) running alongside the Amazing Spider-Man comic book series which debuted in 1963. So it's strange the game is titled Amazing Spider-Man when the apparent visual inspiration was Spider-Man (1990).
Contribute
Are you familiar with this game? Help document and preserve this entry in video game history!