In The Amazing Spider-Man, Spider Man has to rescue his girlfriend Mary Jane who was been kidnapped by the super villain Mysterio. The whole game takes place on a film set studio.
This game is primarily a platforming game in which Spider-Man fights against various enemies. Those can be stunned with Spider-Man's iconic web substance, but touching them or other hazards in the game world will decrease his health. Another important part of the gameplay are puzzles, mostly with the goal to deactivate some of Mysterio's gimmicks, e.g. changed gravity, to clear the path. Spider-Man can climb walls and shoot grappling hooks.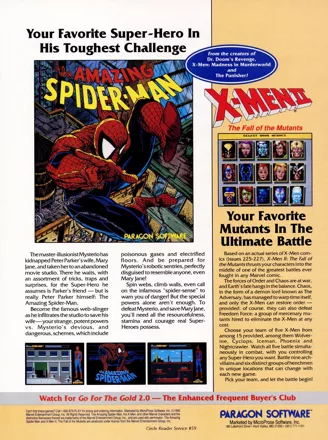 Credits (DOS version)
10 People
| | |
| --- | --- |
| Game Design | |
| IBM PC Implementation | |
| Graphic Design | |
| Sound Sequences | |
| Additional Design | |
| Documentation Text | |
| Documentation Design & Typesetting | |
| Package Design | |
| Package Copy | |
| Box Cover Illustration | |
Trivia
Bugs
The game can be theoretically beaten in about five minutes due to a glitch that allows the player to go through several walls.
References
The main menu art depicts Spider-Man in the same style and pose as Todd Mcfarlane's cover art for Spider-Man Vol. 1 issue #1. The box art is also in Todd Mcfarlane's style. Spider-Man (1990) was a new Spider-Man comic book series that debuted in 1990 (the same year as this game's release) running alongside the Amazing Spider-Man comic book series which debuted in 1963. So it's strange the game is titled Amazing Spider-Man when the apparent visual inspiration was Spider-Man (1990).
Contribute
Know about this game? Add your expertise to help preserve this entry in video game history!