Medal of Honor
aka: Medal Za Otvagu, MoH
Medal of Honor is the first in the long-running series of World War II shooters, originally created by Steven Spielberg. The play assumes the role of Lt. Patterson who has to complete different tasks in the OSS. The missions vary from securing a small French village from any Nazi forces, to taking out a Heavy armored German rail gun. The player has access to a wide selection of antique weapons such as P38 pistols, M1 Garand carabines, MP40's and more. The goals also include undercover missions. Split-screen multiplayer is supported for two players.
Spellings
Медаль за Отвагу - Russian spelling
荣誉勋章 - Simplified Chinese spelling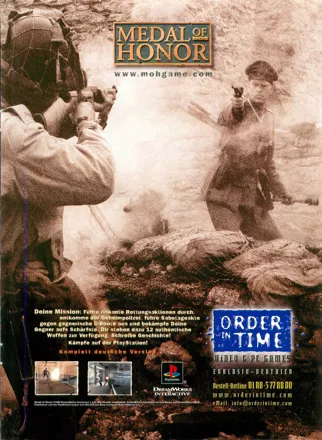 Credits (PlayStation version)
60 People · View all
Original Concept
Producer
Writing / Dialogue / Story
Art Director
Technical Director
Animation Director
Lead Programming
Music
Programming
Lead Two Player Programming
Lead Artist
Lead Designers
Lead Tools Engineer
Test Lead
Artists
[ full credits ]
Trivia
Beta version
The beta version of the game had much more graphic violence. An early trailer found as an extra feature in the VHS copy of the film Small Soldiers depicted enemy soldiers spurting out blood when shot and being blown apart into chunky pieces from grenades or bazookas (with appropriate amounts of blood and gore).
German index
On April 29, 2000, Medal of Honor was put on the infamous German index by the BPjS. For more information about what this means and to see a list of games sharing the same fate, take a look here: BPjS/BPjM indexed games.
Awards
Electronic Gaming Monthly

February 2006 (Issue #200) – #167 out of 200 of the "Greatest Games of Their Time"
Information also contributed by Big John WV.
Contribute
Know about this game? Add your expertise to help preserve this entry in video game history!