Buck Rogers: Matrix Cubed
aka: The 25th Century Buck Rogers: Matrix Cubed - Science Fiction Role-Playing Computer Game, Vol. II, The 25th Century Buck Rogers: Matrix Cubed - Science Fiction Rollenspiel Computerspiel, Vol. II
Moby ID: 483
Following the events of the previous game, N.E.O. the New Earth Organization, has gained some notoriety for defeating the forces of R.A.M., The Russo-American Mercantile. Because of this, the heroes of that mission are sent to diplomatic talks on Venus and N.E.O. stands to recruit a powerful new ally. However it isn't long before trouble starts, and an assassination attempt is planned against the Venusian minister. This is only the beginning of a plot embroiled with the mysterious Matrix Device, which can turn matter into energy. Naturally these adventures will take the NEO agents all over the solar system.
Matrix Cubed is an RPG navigated in first person for most places but with an overhead view for combat and ship navigation. Players will create (or import) a party of up to six characters and assign statistics, abilities and equipment. Players move their party in a first person maze of corridors, open area and rooms. Certain encounters will allow the player to make choices based on the party skills. In the case of combat, the player and enemy forces each have a turn, controlled on an overhead map.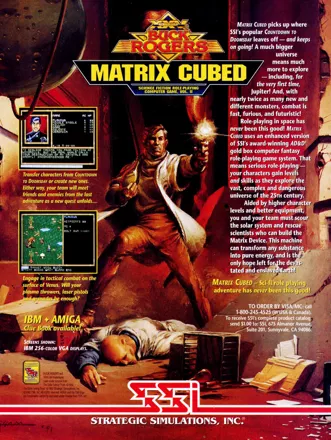 Credits (DOS version)
39 People · View all
Game Creation

SSI Special Projects Group

Game Development
IBM Programming
Amiga Programming
Test Manager
Playtesters
Graphics / Artwork
Music
Art Director
Packaging
[ full credits ]
Critics
Average score: 75% (based on 9 ratings)
Players
Average score: 4.0 out of 5 (based on 12 ratings with 0 reviews)
Be the first to review this game!
Trivia
Cancelled Amiga version
An Amiga version was in development but was not released. It was advertised by Strategic Simulations, Inc.. and was previewed in a few Amiga magazines including Amiga Power and Zero. Some German magazines even reviewed the port: Power Play gave it 78% (one percent less than the PC original) in its 6/92 issue and Amiga Joker gave it 64% in its 5/92 issue.
Cover art
The cover art for this game by Jerry Bingham was originally employed as cover artwork for the TSR 3573 Official Game Adventure XXVCS3: A Matter of Gravitol.
Novel
A Buck Rogers XXVC book, written by Britton Bloom and also entitled "Matrix Cubed", was published in 1991 by TSR. Being the third book of the "Inner Planets trilogy", its precise relationship to the single, autonomous game of the same name is unclear, though they are evidently an exercise in cross-promotional merchandise.
Information also contributed by Indra was here and Terok Nor
Contribute
Are you familiar with this game? Help document and preserve this entry in video game history!