Record of Lodoss War
aka: Lodoss-Tō Senki: Jashin Kōrin, Record of Lodoss War: The Advent of Cardice
In this game the player takes the role of an ancient warrior who has been brought to life by the benevolent wizard Wart. It seems that the evil goddess Kardis is about to be resurrected by her faithful servants. The only way to stop them is to gather famous heroes from Lodoss War universe and to defeat the evil ones in a battle.
Record of Lodoss War is quite similar to Diablo gameplay-wise. It is an action RPG which is heavily combat-oriented. You can directly control only the main hero, while the legendary heroes who join him on the quest are controlled by the AI. As you go through the game you level up, tweak your items with the great Ancients system, and gain new spells. It is also possible to forge weapons and to imbue them with runes. As your adventures into the surrounding land go on, you can return to your HQ, the Goblin Fortress, and get much needed healing and healing potions (free of charge).
Spellings
ロードス島戦記 邪神降臨 - Japanese alternate title spelling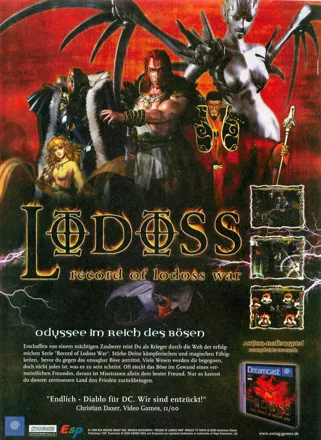 Credits (Dreamcast version)
67 People (64 developers, 3 thanks) · View all
Written by
Director
Character Designer
Game Production

Entertainment Software Publishing Inc.

General Producer
Lead Product Coordinator
Game Development

Neverland Company Co. Ltd.

Manager
Game Designer
CG Effect Designer
Lead Assistant Director
Assistant Director
Planner
Main Programmer
Programmers
Chief CG Designer
Character 3D Modeling Designers
[ full credits ]
Trivia
Fans familiar with Record of the Lodoss War as an anime series and OAV will probably get a lot more out of it than those who don't. The game plays as a kind of side-quest or retelling of the Lodoss War (the series and the OAV are different tellings of it also from one another) that takes place centering around a certain character from the anime sources who many people thought was dead.
Contribute
Know about this game? Add your expertise to help preserve this entry in video game history!
Contributors to this Entry
Game added by Gene Davison.
Additional contributors: Shoddyan, ヒグマル.
Last modified February 22nd, 2023.