Ten years have passed since the events described in Pool of Radiance, and the heroes return to the city where it all started, Phlan. The city is thriving, and looks quite idyllic; but a sinister force is lurking deep in the shadows... After the heroes leave to escort the council member Sasha on a diplomatic assignment, the evil Lord Bane sends four of his most feared lieutenants to destroy the cities of Faerun and twist our dimension. The goal is clear: explore the land and rid it of the evil, by taking on Bane's minions one by one...
Pools of Darkness is the fourth of Gold Box series of classic-style AD&D-based role-playing games. The gameplay is quite similar to other games of this type. At the start of the game, the player creates a party of characters (up to 6). Classic AD&D races (dwarf, elf, half-elf, gnome, etc.), character classes (fighter, paladin, monk, wizard, etc.), alignments (Good/Evil and Lawful/Chaotic axis), and statistics (strength, intelligence, wisdom, etc.) are there for the player to choose and adjust. Once the party is created, the player begins the exploration of the city of Phlan. Upon exiting the city, the player explores a top-down map, visiting dungeons and other locations of interest, as well as engaging in combat.
The turn-based combat is done in similar style as other Gold Box games: the player navigates characters one by one on the top-down battle field, assigning various commands. Experience points are gained after successfully defeating enemies. Enemies appear randomly on the world map as well as in dungeons.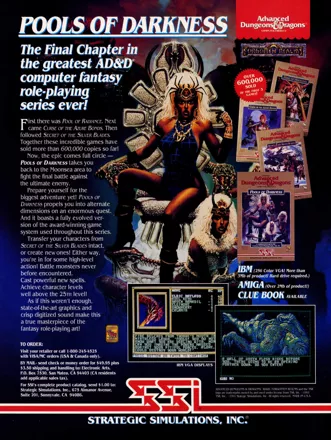 Credits (DOS version)
46 People · View all
Trivia
Copy protection
This game used two forms of copy protection: Manual keyword lookup at start-up and a printed journal to read important text passages.
Cover art
The cover art for the game is adapted from a painting titled Queen of the Spiders by Keith Parkinson. The same artwork was used as cover art for the 1986 AD&D adventure module by the same name.
Novel
Like its predecessor Pool of Radiance, this game also has a book from TSR based on the same story.
Awards
Power Play

Issue 02/1993 – #3 Best RPG in 1992
Information also contributed by Yakumo
Contribute
Know about this game? Add your expertise to help preserve this entry in video game history!