You awake in prison, without the memory of who you are, where you are and why you are imprisoned. In the corner of your cell you find a briefcase computer, which gives you the control over a unit of four droids. Now you must use these droids to find yourself, and free yourself.
Captive has a sci-fi setting, but resembles more a fantasy RPGs with robots and droids. With the help of the droids you explore tech-dungeons and seek information, which leads to the next planet(s) on a path, the end of which is your cell.
The movement and fighting is similar to games like Eye of the Beholder, but you can buy droid parts in shops beside the usual weapons and items. The droids haven't levels like in "normal" role-playing games; you must buy upgrades for the different parts of the droids, which make them stronger and faster. You can also buy a variety of chips, which allow the droids to see in darkness, invert the gravity or simple to shield a little period of time.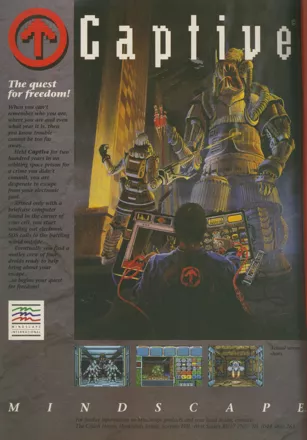 Credits (Amiga version)
| | |
| --- | --- |
| Produced | |
| Coded | |
| Designed | |
| Music | |
| FX | |
Trivia
Inspiration
The game was inspired by the video game Dungeon Master.
Ending
After completing the game, the game (because of a certain event that will not be spoiled at this point) continues and you basically start again - however, the entire game world, including all maps, will be randomly re-generated.
Awards
Amiga Power

May 1991 (Issue #00) - #31 in the "All Time Top 100 Amiga Games"

ST Format

January 1993 (issue #42) - #47 in '50 finest Atari ST games of all time' list
Related Sites +
Captive Base
A site dedicated to the classic Atari/Amiga/PC game Captive. FAQ/Downloads/Cheats and much more!
Captive Resource Guide "CRG"
A Web site devoted to the 1990 Mindscape (original Atari ST & Amiga later updated for the PC) RPG game "Captive". This site covers all aspects of the game through Mission 3 including, tips, images, level walk-thru, maps, strategies, passwords, codes, game saves, and the PC version of the game for download. The CRG site is at present still growing.
Contribute
Know about this game? Add your expertise to help preserve this entry in video game history!