Castlevania: Bloodlines
aka: Castlevania: The New Generation, Vampire Killer
In the year 1917, evil had threatened to rise up again in Transylvania. A young lady named Elizabeth Bartley, who was tried as a witch and killed centuries before, was planning to resurrect the Prince of Darkness, Count Dracula, once again.
The latest of the Belmont lineage, John Morris, and his friend Eric Lecarde, must now travel across Europe to the Palace of Versailles in France, where Bartley is planning the resurrection. And in their way stands Dracula's strongest followers yet...
Spellings
バンパイアキラー - Japanese spelling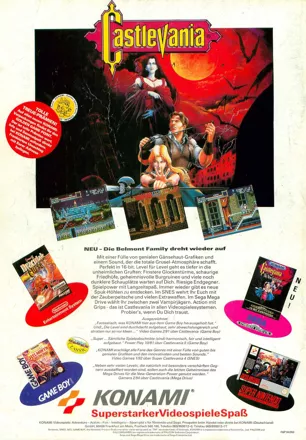 Credits (Genesis version)
27 People (17 developers, 10 thanks) · View all
Trivia
Bug
There was a bug in the game that occurred on level 6-2 that sometimes caused the game to crash! It seems to be a fault of the original game code.
Elizabeth Bartley
The character Countess Elizabeth Bartley was probably named and based on the real-life Countess Elizabeth Bathory, a Hungarian Countess in the 16th century. Known as "The Blood Countess", she was said to have killed over 650 young women and bathed in their blood in order to retain her youthful looks (people referred to this as vampirism). She was eventually caught and was imprisoned in her castle for the rest of her life, sealed behind a wall with only a small opening for food to be passed through. She died at the age of 54.
Version differences
The Japanese and European versions of the game are almost identical. The Japanese version's normal mode is easier than the North American version--equivalent to the "easy" mode--with a lower enemy rate and more damage dealt for attacks. Morris is called "Johnny" instead of just John. And the password screen doesn't show after a stage is completed; rather, it only appears when your character runs out of lives.
The European version is bereft of blood due to some morality law. For instance: Blood doesn't drip down from the platforms on the first stage, and Eric Lecarde doesn't impale himself with the spear when he dies. There are other differences when dealing with the European version of this game: It features some different palette colors, specifically for zombies. This also affects the Medusa Heads and some background and foreground structures, like the steel walls and chains of Stage 4 - 5. There's some different enemy placement that makes the game unbalanced--sometimes more difficult and sometimes easier. Like all PAL versions of games up to this point, it plays painfully slow. The heroes' hit-detection has worsened, and they now receive damage for attacks that sometimes don't come close. Some mid-bosses, like the Water Magician and Armor Lords, don't use energy meters--only certain bosses utilize them.
Awards
GameFan's

1994 (Vol.3, Issue #1) - Best Genesis Action/Adventure Game of the Year
1994 (Vol.3, Issue #1) - Best Genesis Special Effects
Information also contributed by Big John WV and Alexander Michel
Related Sites +
The Castlevania Dungeon
A hosted fan "shrine" site devoted to all the games of the Castlevania series, including the Genesis game Castlevania: Bloodlines. Content includes game info/descriptions, plot summaries, various kinds of media (images, MP3s, etc.) and links to other Castlevania-related sites.
Video review of the Castlevania series (WARNING: Language)
The Angry Video Game Nerd, James Rolfe, reviews games in the Castlevania series. In part 4, he reviews <i>Castlevania: Bloodlines</i> on Genesis and <i>Castlevania: Symphony of the Night</i> on Playstation.
Contribute
Know about this game? Add your expertise to help preserve this entry in video game history!