Blue Angels: Formation Flight Simulation
Blue Angels: Formation Flight Squadron is an F/A-18 flight simulator, with a focus on Air Shows. The Blue Angels are the United States' Navy Flight Demonstration Squadron, known for tight maneuvers and precision flying. The game attempts to replicate this by offering formation flying, having to react and coordinate with other Blue Angels in the air.
The player can practice any maneuver in the simulator: dozens of high, low and flat maneuvers, Diamond 360 passes, left rolls and 4-point rolls or an entire air show for example. Other than practice events, the player can perform an air show or just go for a free flight. In the air, players fly from a 1st person perspective inside the plane or a 3rd person perspective from a chase plane behind the player. Additionally there are 4 different camera views and 3 different gameplay speeds. After the flight, an analysis is displayed of the flight and the player's performance graded.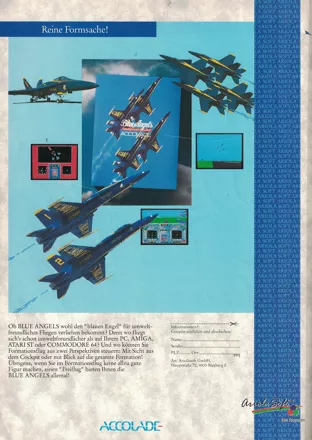 Credits (Amiga version)
12 People
| | |
| --- | --- |
| Design | |
| Programming | |
| Amiga-Version | |
| Graphics | |
| Data | |
| Producer | |
| Co-Producer | |
| Tester | |
| Manual (Original) | |
| Manual (German Translation) | |
Critics
Average score: 61% (based on 12 ratings)
Players
Average score: 3.6 out of 5 (based on 9 ratings with 0 reviews)
Be the first to review this game!
Trivia
Code
This game has blank spaces in its code, filled with Artech's postal address and a joke about the C64 coder. Here is the text, as is:
ARTECH Digital Entertainments Inc.

858 Bank St. Suit 101

Ottawa, Ontario, CANADA

K1S 3W2

Welcome to the blank spot in the code. This space is not needed so I thought I might fill it with idle chatter. The guy working on the C64 version is making all the menus the same as this version, including the "Exit to DOS" which for him is "Exit to BASIC"! What will they think of next?
Awards
Computer Gaming World

November 1996 (15th anniversary issue) – #3 Worst Game of All Time
Contribute
Are you familiar with this game? Help document and preserve this entry in video game history!