The Simpsons: Bart's Nightmare
aka: Bart no Fushigi na Yume no Daibōken
Moby ID: 7087
Bart Simpson has to stay up late and write a paper for class tomorrow. For once, he is determined to get a good mark. However, very quickly, he falls asleep. Nightmare after nightmare haunt his subconsciousness, and it is up to you to get over each one, so that Bart will eventually wake up.
Bart's Nightmare is an action game based on the TV cartoon show The Simpsons. The player navigates Bart through the side-scrolling overworld, collecting pages of his homework while avoiding various enemies modeled after characters from the show. For example, his sister Lisa would occasionally turn him into a frog, Principal Skinner may force him to wear a Sunday school uniform (slowing his movement), etc. Bart can repel enemies by blowing a bubble gum at them.
Once a homework page has been found, the player can step through colored doors and engage in various mini-games. These involve Bart transforming into a "Bartzilla", a giant monster out to destroy Springfield; swimming through Bart's own bloodstream, using air pumps to kill germs; being attacked by Itchy and Scratchy, the duo from the meta-fictional violent cartoon; flying over the city as the superhero Bartman, fighting boss enemies; and exploring the treacherous columns in the Temple of Maggie as Indiana Bart.
Spellings
バートの不思議な夢の大冒険 - Japanese spelling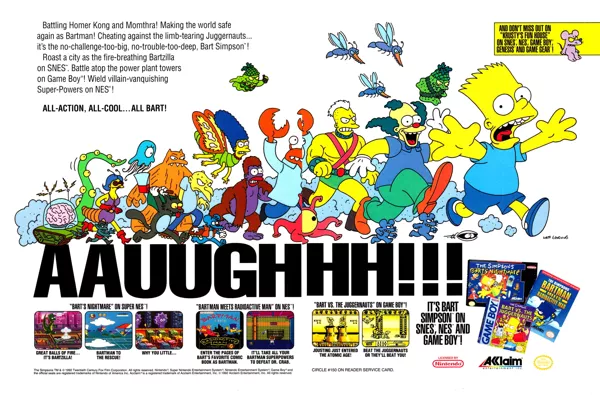 Credits (Genesis version)
23 People (19 developers, 4 thanks)
Acclaim Development by "The Black Team"
Windy World, Bartzilla, Homer Kong
Temple of Maggie, Itchy & Scratchy
Germs, Bartman
Animations, Multitasking, Conversion Design, Base Support Code
Hardware & Development Tools
Testing & Analysis
Project Manager
Artwork
Music
Data Compression
Miscellaneous
Special Thanks to

Shauna
Little John
Brittany
Jacob
Critics
Average score: 60% (based on 14 ratings)
Players
Average score: 3.1 out of 5 (based on 40 ratings with 1 reviews)
The Good
The Simpson's television series comes to the Sega system! Or at least that was the initial excitement when Acclaim, as Flying Edge, started making games for both the SNES and Genesis/Mega Drive.
To be fair, this game does a pretty good job recreating the look of the series on the 16-bit hardware.
The idea of levels designed after Bart's dreams is also a good idea, especially when you consider the imagination of the young juvenile, who has been raised on popular Culture.

The Bad
Bart is annoying character to manipulate, which adds to the level of difficulty in the game. Picking up important objects in the game or using the dream doorways never seems to work consistently.
A lot is going on in the game, early on, and not having solid control mechanics makes it difficult to progress in the game, even if you can figure out what you need to get Bart to do.
The game attempts to mix in adventure game-style puzzles and mini-games with more traditional side scrolling action. While I can appreciate wanting to offer more then just a platforming, it does not work in this case.
Here young Bart is not easy to control as the hero in an adventure or in a platforming game. Hit detection, grabbing pieces of homework and anything else you need to do, becomes needlessly frustrating. Beyond that, Bart's dreams are rather dull.
Fans will recognize many of the game's locations and enemies, but if you are going to set a game in the dream world, maybe it would be best to take full advantage of the situation.
Why not have Bart be his favorite superhero in his dreams? Why not create levels that Bart wouldn't be likely to visit when he is awake? It's great to set a game in a dream world, especially when it's the Simpson's, but this game rarely takes advantage of the opportunity.

The Bottom Line
Bart's Nightmare is a nightmare for gamers due to its subpar game play mechanics and often dull dream world scenarios. Fans of the Simpson's would do better trying to play the Simpson's arcade game.
Genesis · by ETJB (428) · 2014
Contribute
Are you familiar with this game? Help document and preserve this entry in video game history!
Contributors to this Entry
Game added by lechuck13.
Genesis added by Unicorn Lynx.
Additional contributors: PatMan785.
Game added August 20th, 2002. Last modified September 13th, 2023.