BC's Quest for Tires
aka: B.C.'s Quest, B.C.'s Quest for Tires
Cute Chick is in trouble! She is being held captive by the dinosaur, and it is up to Thor to ride his trusty wheel to the rescue. There are many obstacles in the way which Thor will need to jump and duck, including rocks, trees, rivers, lava pits, cliffs, and of course Fat Broad. When you duck, the character bounces up and down, so don't duck too soon. BC's Quest For Tires is a side scrolling action game resembling Moon Patrol in some ways, featuring characters from the comic strip BC.
Spellings
クエスト (太古の恋物語) - Japanese spelling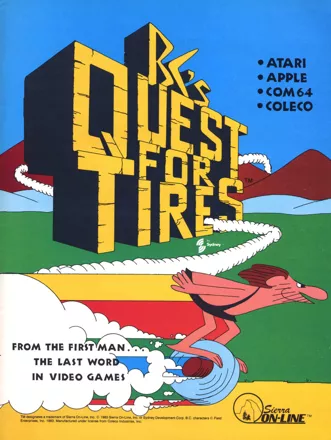 Credits (Atari 8-bit version)
| | |
| --- | --- |
| Programmed by | |
| Cover artwork by | |
| Based on characters from the comic strip "B.C." by | |
Trivia
Spectrum version
This was the only one of Sierra's games to ever be converted to the Spectrum, even though at least 15 were released for the similar-spec Commodore 64. As with most conversions of titles from Access/EA/MicroProse/Sega/Capcom et al., it was undertaken by a British company - in this case Software Projects, who published Jet Set Willy.
Contribute
Know about this game? Add your expertise to help preserve this entry in video game history!