Jimmy White's 'Whirlwind' Snooker
aka: 147 3D Snooker
A 3D snooker simulator. The table and cue can be turned through almost any angle, with shot strength and spin as required too. An on-screen dotted white line shows the path of your ball, including the next bounce.
There is also a "trick-shot" mode, allowing you to recreate classic snooker trick shots (well, not the one with the basket. Or with the cues lying on the table. Or the one with the girl lying on her back with the pink ball in her mouth. But you know).
And if you dawdle too long, the balls pull faces at you. Honest!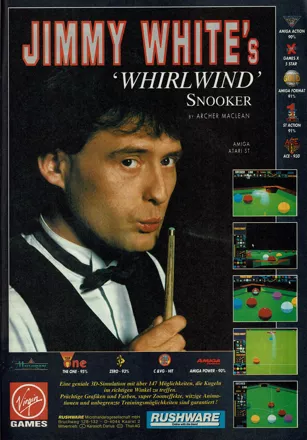 Trivia
3D engine
The 3D engine was originally written for the Acorn Archimedes system in 1988, although that version probably was never finished.
Demo mode
There is a hidden mode in this game in which you can watch the computer compile breaks of 147 (the most that's possible in normal circumstances, and something of a Holy Grail among professional snooker players - coincidentally White became just the second player to achieve this during the World Championships in 1992, though several other players have achieved it since - Ronnie O'Sullivan and Stephen Hendry share the record with three). Go into Trick Shot Mode and press F7, F4 and then F1, and it will now be available on the Demo Mode Menu
Original idea
The idea for Jimmy White to license the game actually came from TV Presenter Jeremy Beadle, when he met Archer MacLean at a trade show.
Version differences
An updated Amiga version was made in 1994, adding accelerator card compatibility and multiple game-save slots.
Some early Amiga copies weren't fully compatible with Kickstart 2 either, and produced black blocks on the screen (although it was basically still playable)
Awards
ST Format

January 1993 (issue #42) - #7 in '50 finest Atari ST games of all time' list
Contribute
Know about this game? Add your expertise to help preserve this entry in video game history!