Knuckles' Chaotix
aka: Chaotix
(prices updated 9/19 10:02 PM )
Knuckles Chaotix is a spin-off of the Sonic the Hedgehog series of Genesis games. The starring character in this title is Knuckles the Echidna, who first appeared in Sonic the Hedgehog 3. Knuckles works at Carnival Island, an amusement park. It's his job to protect the park and make it a happy place for visitors. Dr. Robotnik, as usual, has an evil plan for the park. He wants the power emerald which supplies electricity to the entire island. What's worse, he has imprisoned several of Knuckles' friends in the "combi confiner." This contraption only allows Knuckles to free one of his friends at a time be attaching a tether between himself and them. Therefore, when you play the game you are always attached to another character.
Although the basic gameplay of Knuckles Chaotix is similar to the Sonic games, the bungee cord between the two characters creates new challenges. The new characters that appear are Vector the Crocodile, Mighty the Armadillo, Espio the Chameleon and Charmy Bee. There also two characters whose sole purpose is to slow you down, Heavy the Robot, and Bomb. Chaotix adds several new power-ups and 3D bonus levels as well.
Spellings
カオティクス - Japanese spelling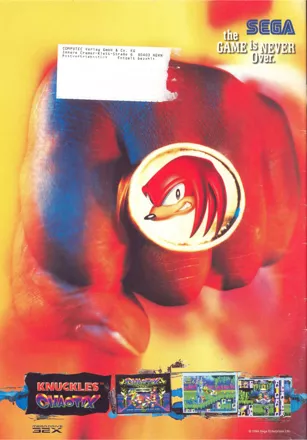 Credits (SEGA 32X version)
88 People (77 developers, 11 thanks) · View all
Executive Producer
Producer
Director
Team Leader
Assistant Producer
Game Designer
Map Design
Text Coordinator
Product Manager
Chief Graphic Designer
Attraction Designer
[ full credits ]
Critics
Average score: 73% (based on 27 ratings)
Players
Average score: 3.5 out of 5 (based on 22 ratings with 1 reviews)
The Good
I like the original idea of linking 2 characters together which was based on the unreleased Megadrive game, Sonic Crackers. The level visuals are colorful & uplifting especially the 3D Special Stages.

The Bad
The linking the 2 characters can sometimes be VERY ANNOYING, especially if you are joined with someone like Bomb who's big & heavy, that can really slow you down, and it was launched on Sega's 32x (A add-on to the Megadrive) which was a failure.

The Bottom Line
A fun & refreshing game, a must play, but the trouble is, where can you find a 32x!
SEGA 32X · by will.i.am (1067) · 2003
Trivia
Development
The game may have roots in an unreleased Sonic game known as Sonic Crackers. In the game Sonic and Tails would of been linked together by a ring much like the characters in Chaotix are.
Contribute
Know about this game? Add your expertise to help preserve this entry in video game history!