The Killing Game Show
aka: Fatal Rewind
This is a vertical platformer with horizontal wrap-around. For the entertainment of the futuristic masses, you play a criminal that has been inserted into a mechanical body with the promise that if you succeed in surviving through all the levels (there are many and they are hard), you will be set free. You start each level at the bottom, near pooling liquid which will soon rise, at your immediate peril. Navigate the level from bottom to the exit at the top before the liquid rises and kills you. There are many other foes that fly around, causing you damage and basically annoying you to spit. Most levels must be navigated through a series of keyed gates, doors, or portals. These shaped keys are scattered around the map and must by picked up and used only on the gates they match individually. Twist: You can only carry one special weapon (triple shot, laser beam, or vertical shot) and one tool (key, liquid-freeze, or a red herring) at a time. This game requires a lot of memorization of enemy movement patterns and optimum routes. A unique feature is that when you die, you can watch a replay and take over at any point to continue your game. You can also hit the HELP button at the start of each level to view a map, helping you plan your route.
Spellings
キリング・ゲーム・ショー - Japanese spelling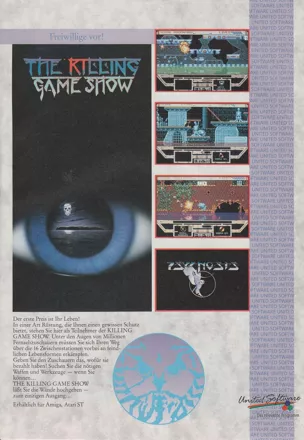 Credits (Amiga version)
17 People (7 developers, 10 thanks)
| | |
| --- | --- |
| Programming | |
| Game Design | |
| Graphics and Artwork | |
| Music and Sound Effects | |
| Special Thanks to | |
| Cover Artwork | |
Trivia
Cameo
This game's main character (the robot) makes a cameo in the Genesis version of Wiz 'n' Liz during the Sega logo sequence. This is due to the fact that the same people who worked on The Killing Game Show also worked on Wiz 'n' Liz.
Awards
Amiga Power

May 1991 (Issue #00) - #59 in the "All Time Top 100 Amiga Games"

ST Format

January 1993 (issue #42) - #40 in '50 finest Atari ST games of all time' list
Contribute
Know about this game? Add your expertise to help preserve this entry in video game history!